Life as a Student Worker at Precis Digital

Jonas Østergård Bæk
Senior Data Advisor & Tech Product Owner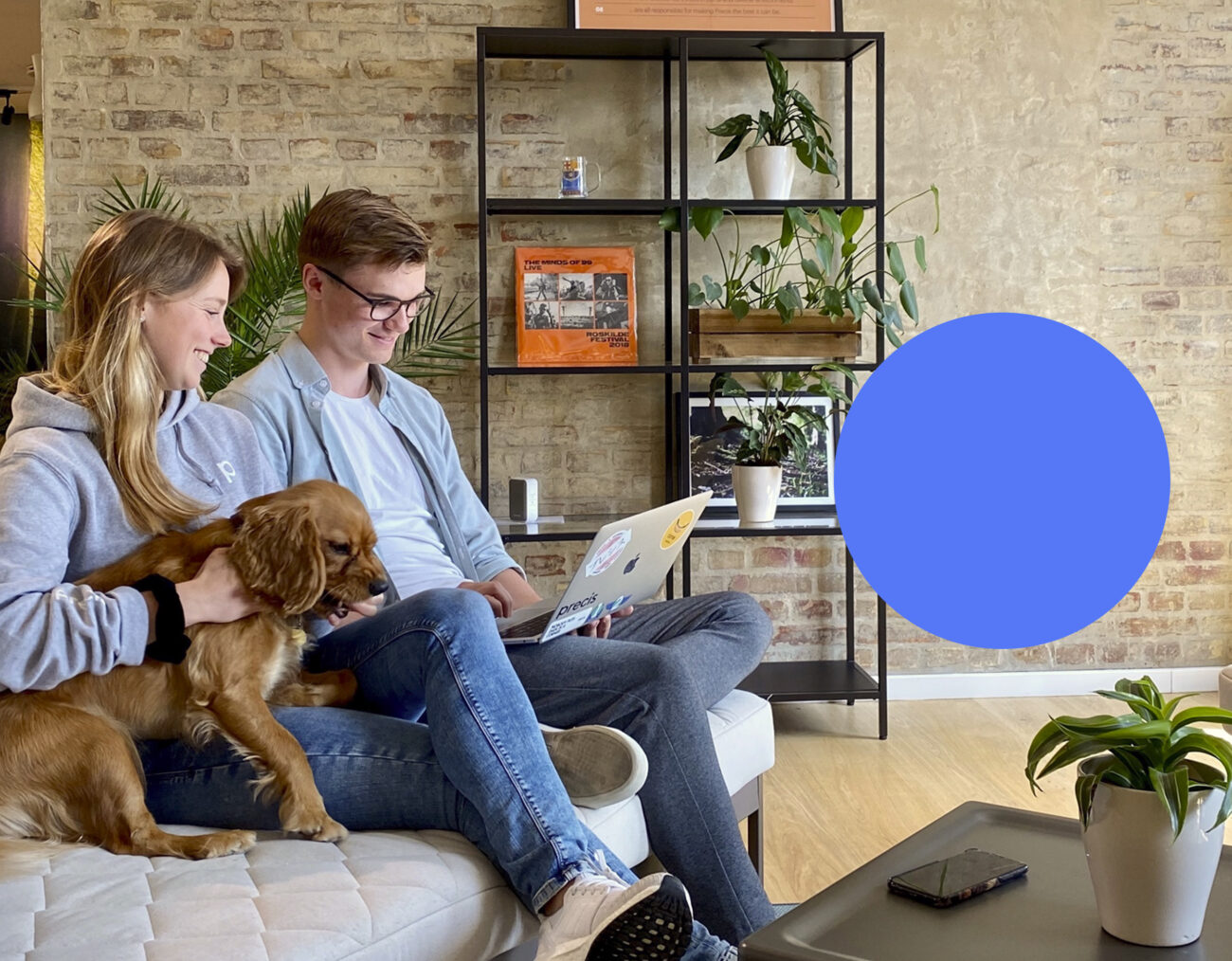 Working as a Student Worker at Precis Digital is not like any other student job. In this post, Jonas and Madeline from the Precis Aarhus office will share their experiences and thoughts about working in the Student Worker role at Precis.
Meet Jonas & Madeline
We're Jonas (24) and Madeline (25) and we're currently working as student workers at the Aarhus office. Jonas became a part of the Precis family when the Aarhus office opened back in 2018. He'd just returned from London after a year in the eCommerce industry and recently started pursuing his bachelor's in Economics and Business Administration. A year later, Madeline joined the company after having been part of the winning team in a local case competition where Precis participated as a partner. Having recently begun her master's in Information Management, the role at Precis matched her personal and professional expectations of a job related to her studies.
Since joining, we have both been involved in a number of extracurricular projects – from hosting skiing trips and workshops for our colleagues and clients to helping develop the next technology that will define Precis in the future.
Of course, these projects are not the only thing that defines the work at Precis. A standard day spent at the office will most likely involve a combination of advising clients, monitoring and optimizing current marketing initiatives, as well as strategizing about future client initiatives. In addition to the actual work itself, we both also enjoy spending time at the Friday after-works as well as at the ping-pong table – although Jonas is usually the one to come out ahead there.
Combining work and studies
Because we are still studying, we are, of course, not spending all of our time at Precis. The student worker role corresponds to around 25 hours a week, which means that we need to fit our studies into the remaining time. That can sometimes be a challenge, but Precis has been incredibly understanding during exam periods, for example, when our studies naturally require more time and focus. Furthermore, during the past semester, both of us have been writing our theses, in which Precis has played a central role. Madeline wrote about DevOps and optimizing the tech development in Precis while Jonas solved a complex marketing attribution challenge for one of our clients.
Why we love Precis
As long as we've been a part of Precis, we have never felt that our position as student workers was second to the "full-timers" because Precis sets talent, skills, and motivation above titles. That is reflected in the level of responsibilities that we have both had with regard to client management, developing business cases and pitches for new clients, as well as maintaining the local lead roles within key areas. This level of trust has been crucial to our professional development.
When you work at Precis, you also always have the support of an organization filled to the brim with experts in basically every field imaginable within digital marketing. This means that no matter the challenge you're facing, you always have someone to ask or help you solve it, which gives you the confidence to take on new challenges. This access to knowledge is not only relevant in our day-to-day work, but also a big part of why we both enjoy the Friday after-works so much. There is of course a relaxed atmosphere, but these Friday after-works are often where the most interesting and rewarding conversations take place amongst everyone – from student workers to managers.
Most importantly, however, Precis Aarhus is a workplace with amazing colleagues who have truly all become great friends. When we started, we were only a few, but today we've grown to 24 people and counting!
Are you interested in joining Precis? Check out our career page.