AI in marketing: The boring, the difficult & the exciting parts – event recap

Isabella Dodkins
Group Marketing Manager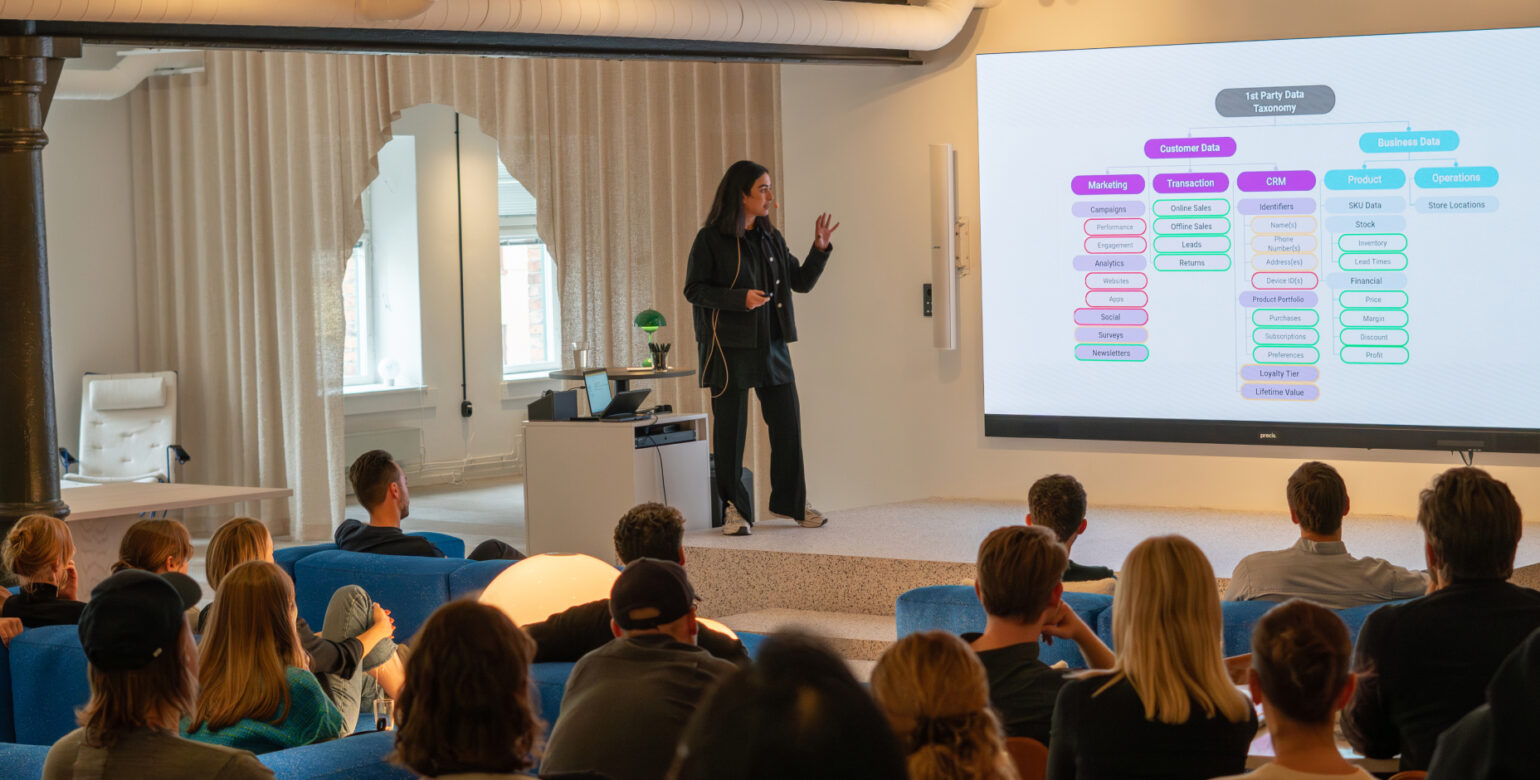 Together with Google, Precis recently hosted an event to discuss generative AI in marketing with some of the greatest minds in the industry. Everything from the essential building blocks to working with AI, to the important questions it raises about our ways of working and some of the most exciting use cases for your teams.
If you were unable to attend, or simply want to relive the highlights, we've written a short recap of what went down.

Setting up your business for AI integration
Hanna Shirkavand, Head of Data & Analytics at Precis, presented insightful information about how to lay the right foundations to make sure that your business is ready to make the most of Generative AI and apply it to the greatest effect.
Defining your goals: Before taking the plunge, Hanna encourages you to consider your strategy for Generative AI. Companies with a lower ambition will use AI tools "out of the box", whereas companies who adapt AI tools to be integrated with their data stack will see the biggest rewards. It's a dance between setting ambitious goals and being pragmatic with emerging technology.
Preparing your data infrastructure for AI: In the complex world of data management, Hanna reveals that 72% of organisations face challenges in scaling AI due to data-related issues. Enter Precis Technology, a stack that can streamline your data from collection through to activation. However, Hanna advises caution – can you trust AI with your data? You have options: wait, prepare, or cautiously dive in while safeguarding your sensitive data. Our recommendation is the latter option!
Prioritising first-party data collection: The old notion of "collect as much data as possible" is giving way to a more sophisticated era where data governance is an ongoing process. AI has raised customer expectations, with 83% of CMOs focusing on data and privacy. Hanna's message is clear: delivering subpar ads will lead to user dissatisfaction. Data ethics goes beyond compliance; it's a strategic tool for building customer trust and gaining a competitive edge.
In a nutshell:
Set your ambition: Define your Generative AI investment, anticipating adaptability.
AI infrastructure: Clean, connected data is your AI's fuel; protect sensitive data and prepare for regulations.
First-party data: Craft a strategy mindful of privacy and AI advancements, showcasing data ethics as your strategic strength.
In other words, Generative AI isn't just a tool; it's a dance, a journey, and a symphony waiting to be composed. Once you have the first notes in place, the rest can begin!

Panel discussion: Marketing Ethics & Artificial intelligence
For the event, Precis invited a few brilliant minds to cover a wide area of perspective on artificial intelligence ranging all the way from creative to legal. The panel was hosted by Rhys Cater, Managing Director at Precis London with the panelists including Robert Jurewicz CMO at Plick, Daniele Tottle Head of Creative Design at Regnology, Mikaela Hedström SEO Lead at H&M and our very own Legal Counsel Jasmin Daniel Harris.
The discussions revolved around the challenges of integrating artificial intelligence into your organisation along with deep dives into questions around copyright, data sets and how artificial intelligence might shape the future of SEO. One thing was for certain, nothing is certain and there is a lot more to be heard around this topic – so stay tuned for future events.

LLMs and all that jazz
Ted Schönbäck, CTO at Google in the Nordics, presented on the topic of transformative power of Large Language Models (LLMs). LLMs, with emergent abilities, redefine our interaction with data and intelligent systems. Google's Responsible AI approach underlines a commitment to ethical standards which was something that was emphasised in the presentation – something we like here at Precis.
Schönbäck highlighted the diversity in consumer and enterprise needs for Generative AI. The emphasis was on understanding that different LLMs have unique strengths, catering to various tasks and processing costs. He also introduced Google Cloud's Generative AI portfolio with interesting glimpses into the future of generative AI including everything from code and images to audio and video and its impact on the industry.
In essence, Schönbäck's presentation portrayed the LLM revolution as a nuanced and practical advancement in meeting diverse demands across different domains. Curious to learn more? Access the portal for all things Generative AI at Google Cloud here.