Maximising investments through price visualisation optimisation – Black Week Edition

Carine Backelle
Group Creative Strategy Lead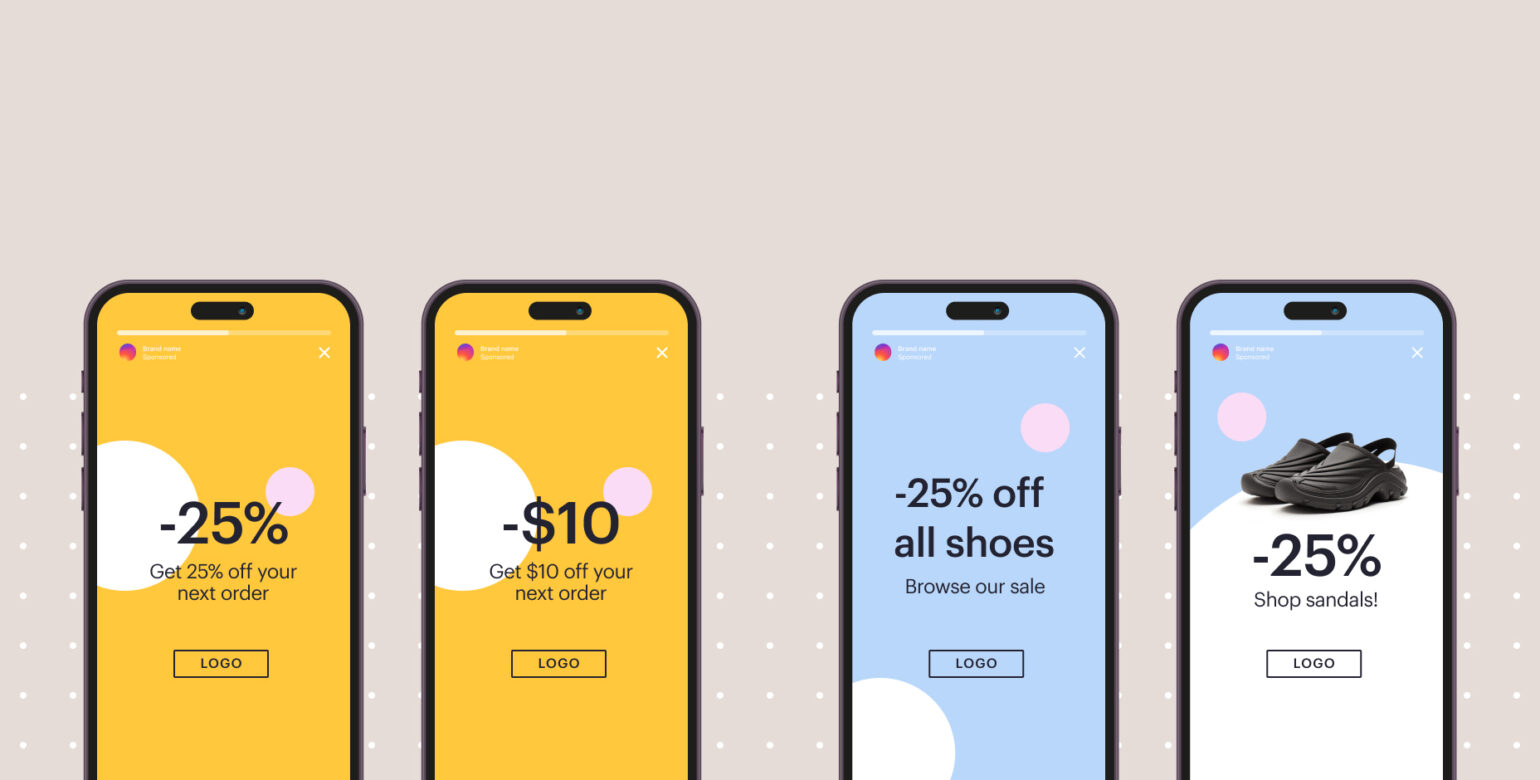 Black Friday is coming at us fast, and we're already gearing up for one of the most anticipated sales events of the year. Amidst the frenzy of deals and discounts, how can you ensure your Black Friday creative stands out and maximises your return on investment? The answer lies in the application of price visualisation testing in your creative.
Understanding price visualisation testing
Price visualisation involves how we present pricing in our creative content and messages, such as including percentage discounts, percentage ranges, and actual price reductions. It's important to ensure that these pricing details are visually appealing in our creative materials, as well as optimised towards our goals. But if you're unsure of how to get there, price visualisation testing is a helpful tool to try out different hypotheses.
So, what is price visualisation testing? Well, you might've guessed it: it involves using a testing framework to find out how to most efficiently portray and communicate price in our marketing efforts. By doing so, we can gain invaluable knowledge into how to best communicate discounts and understand what different price thresholds need to be communicated in what way and to what audience.
Why is price visualisation testing ahead of peak season so crucial?
Good question! Here are a few reasons why:
Competitive edge: In the highly competitive Black Friday landscape, standing out is a challenge. With price visualisation testing, you can identify unique pricing strategies that set your business apart from the competition, making your offers more compelling to customers without needing to compromise on lowering prices more than you had planned for.
Data-driven decision making: Guesswork is replaced with hard data. Price visualisation testing provides concrete insights into customer behaviour, enabling you to make data-driven decisions rather than relying on assumptions or trends.
Creative insights library: By continually testing and documenting learnings over time, you will start to compile a robust library of learnings that can be leveraged in future pushes. You can also spot trends and see how consumers react to your different messaging and pricing strategies over time which you can use to further optimise your creative. This can help you anticipate what strategy and tactics might need testing and revalidating.
Need more convincing? The benefits of integrating price visualisation testing into your Black Friday marketing strategy are numerous:
Increased conversions: Understanding how price changes impact conversions can help you design creatives that engage and trigger your target audience, increasing the likelihood of conversion.
Increased revenue/ROAS: Gaining these insights and implementing them ahead of a heavy sales period will ensure that you are investing in creatives that drive maximal performance.
Enhanced customer experience: By testing what pricing visualisation resonates with your customers, you help create a more positive shopping experience and perception of your brand, which leads to long-term wins.
I'm sold! How do I get started?
Great! Welcome to the fun side of data. Now that we've explored the importance of price visualisation testing, let's dive into practical approaches you can implement to improve your Black Friday marketing strategy:
Creative testing: Ensure you have a clear hypothesis and/or element of which you want to test the efficiency. Launch and evaluate different pricing visualisation strategies across your key audiences. Measure the performance of each using your guiding star KPIs and determine the most effective approach.
Dynamic pricing implementation: Implement dynamic creative that adjusts prices based on real-time offers, demand, and other impacting factors. This can help you stay competitive during the peak period.
Segmentation: Segment your customer base and tailor pricing and offers to specific segments. This increases the relevance of your promotions, leading to higher engagement and conversions.
Competitor analysis: Keep a close eye on your competitors' pricing strategies and adjust your own accordingly if you spot any untapped opportunities. Keeping a close eye on performance during the test flight and sales activation period can help you identify trends and react swiftly.
Here's an example of what price visualisation testing can look like: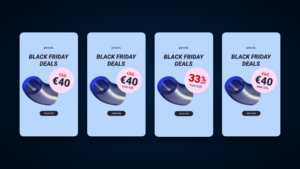 Conclusion
By using data-driven pricing strategies and visualisation techniques, you can prepare your creative materials in advance, craft attractive offers, and continue to make well-informed decisions not only for Black Friday but also beyond. (Psst! Winter sales are coming up soon, too!)
With these insights in hand, you can take action to enhance your Black Friday marketing strategy, maximise your return on investment, and gain a competitive edge in the crowded holiday market. This Black Friday, let creative excellence and data-driven decisions be your guiding light, ensuring your business shines brighter than ever before.