Meet our Analytics Specialist Celina

Celina Belotti
Privacy Lead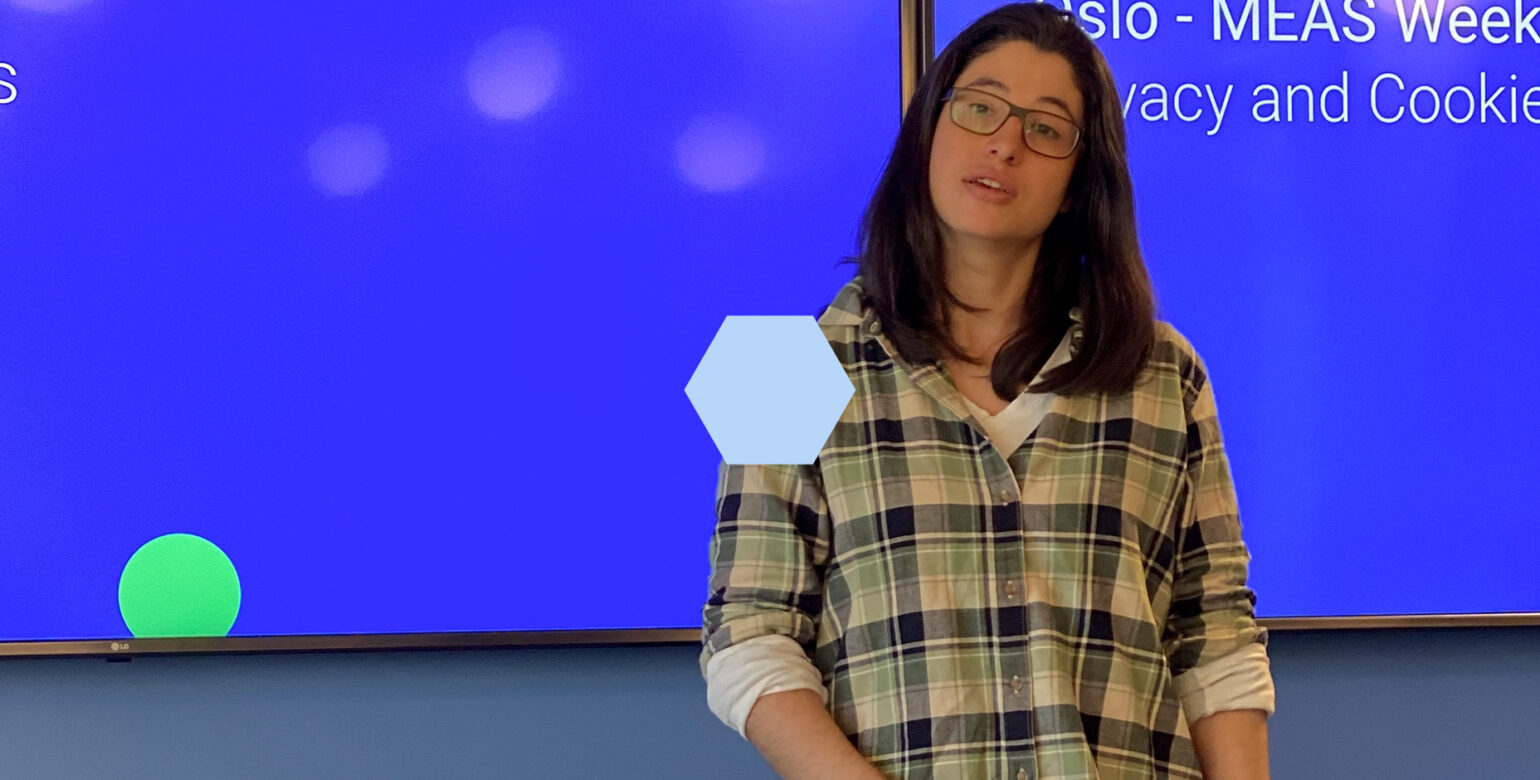 Are you wondering how it would be working with analytics and data within a digital marketing agency, or maybe very specifically, at Precis? Meet one of the co-workers at our London office, Celina Belotti, who has shared her thoughts about working at Precis.
This blog is a part of a series of posts written by people at Precis, which describes from their perspective how it is to work with us.
Meet Celina
My name is Celina, I am an equestrian vaulter, turned psychologist, turned data sociologist, turned Analytics Specialist at Precis London. These are lots of "turns" and even they only reflect a small part of the road that led me to Precis one year ago. They do, however, equip me to write a little bit about how curiosity can be a guiding light to navigate the challenging decisions we face when starting our career. But that's not all I want to talk about though…
When I was doing my master's dissertation – in social and political science of data at the London School of Economics – the entire premise of my research was that "in order to understand how technology will develop in the future, we should look to understand the minds of the people working to develop and design technology every single day – be that in corporations, governments or universities". One conclusion I reached was that if we want to have better, more sustainable, and ethical technology (which includes digital marketing), we need people with diverse narratives to be a part of it. There are a number of factors that make this a challenging task: technology careers privilege a technical or business-oriented profile and often these are male-dominated crowds. To me, finding a career that I love and a position inside the technology sector that would match my skills, was not straightforward. So when Precis asked me to write about myself, I really wanted to share my story.
IT STARTED ON BLOGSPOT
Growing up in Brazil, setting up blogs and writing was sort of my thing – this involved a brief chance at stardom as my blog about cheesecakes made it to a national newspaper in 2008. Still, when I had to pick what to study in college, I decided to go for psychology because I thought that I wanted to have a better understanding of people and their motivations. After spending five years getting my degree, I decided that I wanted to work with something online and innovation-driven so I chose to pursue a digital marketing career instead.
I tried working with different aspects of advertising but did not find one that really stuck with me. In 2017, I opted to take a break: I moved to London to get my master's degree. My year at the LSE was one of the most fruitful of my career because it gave me the opportunity to follow my intellectual curiosity, yet it was completely theoretical. When I came back to the market, my first impression was that I was completely behind everyone else.
Fast forward a few months in the digital marketing industry, I was exhausted and uninspired, thinking that I would never be good enough for the sort of project I wanted to do. Looking back at this moment, I can see how this feeling had to do in equal measure with my own quest for a career I am interested in and with an industry-wide tendency to look for candidates with certain skill sets.
When I was looking for a job that matched my interests, I had some leads on my search:
I was fascinated by UX and design – the intersection between design and data was another pillar of my master's research.
I was truly interested in digital strategy and data politics, but I lacked the business and management knowledge of a consultant.
I was not interested in data science at all, nor was I driven to learn python. Nor will I ever have engineering-level mathematics skills.
What I was quite good at, however, was using Google Analytics – I write this as I remember fondly all the blogs I set up as a kid.
I decided on a game plan: I would pick one of those things – analytics – and I would find a way to focus on that, hoping that it would open the doors for the other cool things I wanted to do.
THE INTERVIEW – YOU'VE BEEN CATERED
I didn't know what to expect when I came for the interview at Precis. But when Rhys Cater (CEO Precis London) told me that to excel as an Analytics Specialist the main required skill was curiosity, I immediately decided that I never wanted a job as much as I wanted this one.
I like to think that I am a very curious person. I have a special place in my brain for random facts – my colleagues will certainly confirm that I am very trustworthy with my general trivia. This, together with six years in academia and a genuine passion for going to random meetups about data and politics in my free time, gave me kick-ass curiosity.
All that I was looking for was a company that believed that I could learn stuff.
Fast forward 12 months and here I am.
WORKING IN ANALYTICS
Rhys' full take on curiosity is:
"In analytics, every single thing has an explanation so you have to be curious to seek out an answer – which is not always evident.
(Cater, 2020)
I actually think that this is one of the things that makes web-analytics so satisfying to me: it is essentially a puzzle.
Another interesting thing about web analytics is that it is an absurdly diverse field. If you look at my work and at the work that some of my colleagues do, it might actually seem like we are doing completely different things. While I am often thinking about content, UX or CRO, my friends might be thinking about bot-traffic, regression models and Firebase SDKs and that is not just fine, but desirable because it makes our team more complete.
Yes, as an analytics specialist a lot of my work turned out to be technical – do note that at Precis I have not just wonderful mentors who understand the way my brain works, but also time and space to develop my own answers. I also get the opportunity to work on a number of other initiatives that go beyond that and that are very much connected not only to those cool things I want to be doing, but also to both my degrees. Some examples:
CRO and UX: During lockdown I have been taking an online course on Human Computer Interaction at Georgia Tech University. I am psyched about this topic as it connects all of the things I am interested in. It will also give me more tools to help our clients in their CRO and UX challenges.
Privacy Communication: I have been working on ways to ramp up our internal knowledge around privacy and data ethics. This includes finding ways to spark a conversation about this with my colleagues – which is a very sensitive topic.
We have been thinking about how to advise and support our clients in improving their cookie consent solutions. I am creating a set of tools using user-centered design to allow people to easily assess the quality of a cookie consent banner.
Event Organizing: We are now hosting a periodic meetup about important topics around data, open to the outside world.
CONCLUSIONS
Maybe the key to all of this is to not look at it as a matter of a duality between technical and non-technical people – as we have collectively done for a while. This separation is arguably what made me anxious as a job seeker: thinking that there is no space in the market for professionals with different skill sets. There is more to the challenges that we face in analytics than what fits inside that dichotomy. The technology sector – and digital marketing specifically – can still be more welcoming to people with diverse backgrounds and narratives, but it takes a bold company like Precis to see that and invest in it.
What I really wanted to tell my younger self is that in order to find out what you really enjoy working with, all you need to do is to never stop thinking 'am I enjoying this?' and always follow what you are interested in (Whitehead, 2019). Eventually, you might come to terms with the turns you have in your own narrative. I used to feel like I was always one step behind – and this feeling is still there – but now I am also one step closer and that is because Precis gives me the opportunity to be myself.