Using brand marketing and core messaging to increase ROAS with Polarn O. Pyret

Herman Aatangen
Senior Manager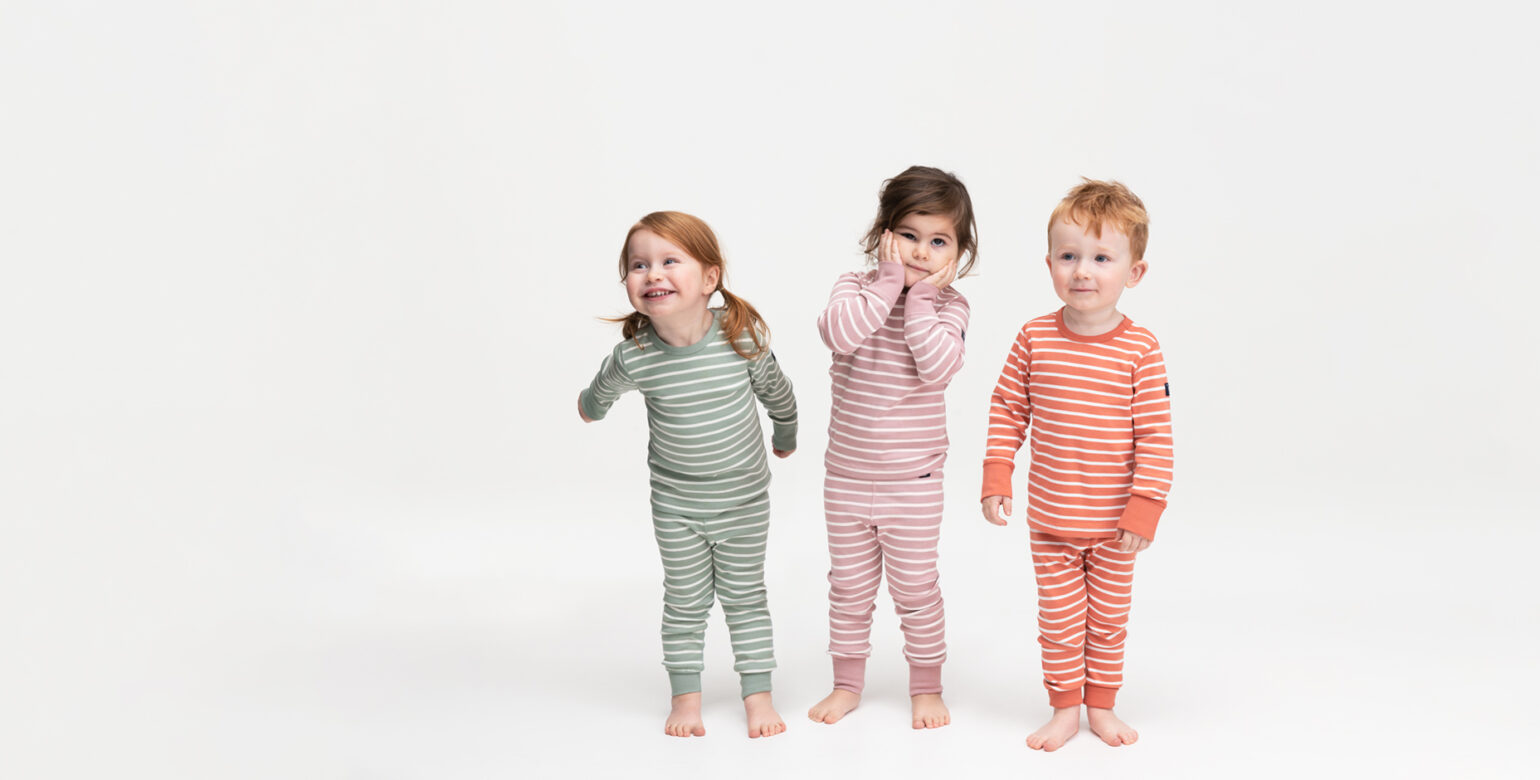 In this day and age, many businesses are moving towards a more sustainable business model and it's time that digital marketing practices change with it. In this article, we outline how the sustainable Swedish clothing brand for kids, Polarn O. Pyret (PO.P), manages its digital marketing activities to communicate core values and drive performance.
We demonstrate that by emphasising sustainability as part of PO.P's core values, we didn't just meet previous targets – we were able to exceed them – ultimately increasing Google Ads ROAS by 353% and Facebook 272% year on year.
About the Polarn O. Pyret brand
For 10 years in a row, Polarn O. Pyret has been named Sweden's greenest brand in the clothing category. This in itself is something Polarn O. Pyret takes great pride in, especially considering that the clothing industry is known to be one of the most polluting. Along with many other players in the industry, Polarn O. Pyret has made several efforts and initiatives to limit the overproduction of clothes manufactured and become more sustainable across their omnichannel strategy.
In this article, we outline some of the key initiatives – both from a business and marketing perspective – that helped turn 2020 into one of their most sustainable (and successful) years yet.
For further info, all of the initiatives and goals can be found in their Sustainability Report.
The sustainability 'challenge'
Talking about sustainability as a 'challenge' may seem a bit counterintuitive, but we have to point out how this can lead to difficulties from a short-term digital marketing perspective. Firstly, we want to reiterate that Precis is dedicated to driving the high performance of brands while also being environmentally, financially and socially responsible.
However, for many e-commerce marketers, aligning digital marketing goals with a sustainability-first strategy may seem difficult. Polarn O. Pyret's strong focus on sustainability, naturally, had a direct impact on our digital marketing efforts – the conversion on the website being a key example. But with a different approach, we found ways to make sustainability a crucial part of our successful digital marketing partnership.
The core principles behind Polarn O. Pyret clothing
Even though times have been – and continue to be – uncertain, we've never lost sight of what we stand for. Like many other retailers, we've had to adjust to these new times. But for us, communicating our core values is more important than ever. We've seen an increased interest in what our customers value in terms of how we can help them make even more sustainable choices in their everyday life.
We've seen a great effect in our marketing around PO.P Second Hand, which may not only be because of the great service that it is – but also that the subject engages our customers. While the ads we've been running have been purely informative in terms of content, we've seen a great effect in ROAS and works as both upper- and lower funnel activity. (Heli Fleetwood, Marketing Director, Polarn O. Pyret)
1. Reduce the overproduction of new clothing
PO.P is hoping to encourage healthier consumption patterns and gradually decrease clothing production (Polarn O. Pyret, 2020). In 2019, the number of garments the company produced was reduced by 26%, followed by an initial plan to reduce an additional 12% in 2020. This means that Polarn O. Pyret will have fewer new products per year and focus on the already beloved classics. However, the risk of focusing on a more limited range of colour and styles could have a negative impact on the conversion on any e-commerce website.
2. Increased emphasis on second-hand items
On top of this, Polarn O. Pyret has increased its focus on both second hand and their 'three children for each garment' policy as a way to guarantee the high quality of the products – proven by the fact that PO.P has been the most searched children's brand on the Swedish second-hand sites.
For the purposes of our online sales targets, both of these initiatives can impact consumer demands as well as website conversion levels.
A value-driven digital marketing strategy
Communicating Polarn O. Pyret's core values has been our focus over the past year and continues to be an important part of our long-term digital strategy, while at the same time increasing profitability. With the help of a more digital focus over in-store sales, together with Polarn O. Pyret, we have explored how sustainability can play together with performance – and drive results online.
Although nobody can deny that sustainability policies present challenges to a traditional approach to digital marketing, there are actually several opportunities that arise from a sustainability-based strategy as well…
Advertising products made with GOTS-certified cotton
For those of you that aren't familiar with this word, GOTS stands for the Global Organic Textile Standard and is the worldwide leading textile processing standard for organic fibres, backed up by independent certification of the entire textile supply chain. This means that only products that contain a minimum of 70% organic fibres can become GOTS certified and all chemicals must meet certain environmental and toxicological criteria (Global standard, 2020).
As of 2020, P.OP will only use organic cotton in its production. In addition, at least half of their cotton garments will be GOTS certified organic, which involves the strictest requirements on the production process.
Spreading the good news
While PO.P has focused its efforts on production, we wanted to help spread this message digitally. We produced ads suitable for our upper-funnel activities across channels (mainly GDN and paid social) and tried different variations of copy. The main message was: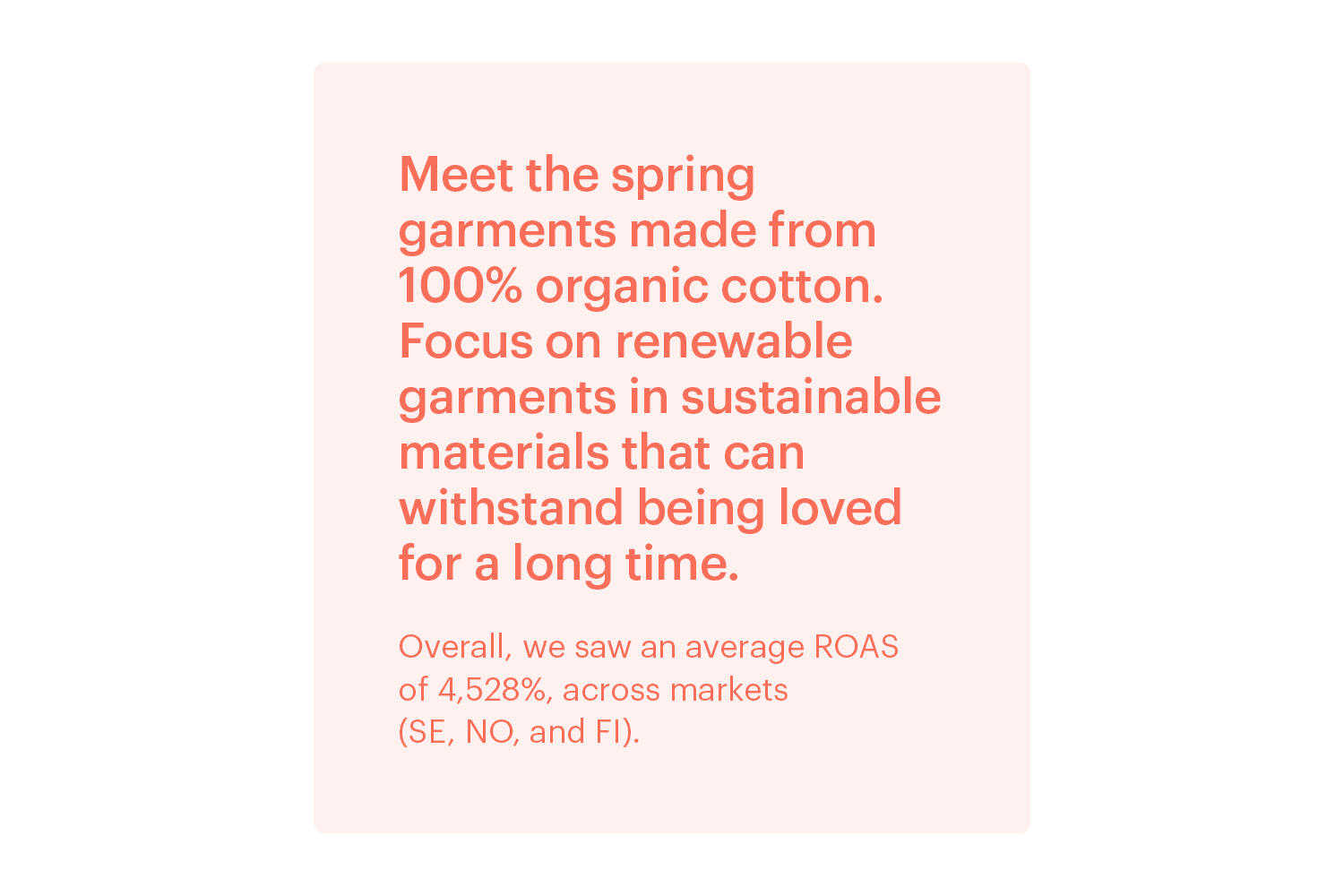 Given this success, we are looking at incorporating this focus into our Smartly strategy by adding "GOTS Organic" and/or "Organic Cotton" labels to our image and video templates. Since PO.P already has included this in their product images, we can easily retrieve this from our product feed and connect it to our templates. The idea is to highlight this as a unique selling point for customers – particularly new visitors.
As we mentioned earlier, having an emphasis on digital growth also brings a lot of new and existing possibilities. Moving forward, we want to look deeper into how we can communicate about PO.Ps core values even more. For example, using second-hand products made from GOTS cotton in our omnichannel strategy and in our upper-funnel campaigns for branding purposes.
Perhaps our next step will be to create our own product feed with only second-hand products through user-generated content? Who knows!
The used and loved campaign
In 2010, Polarn O. Pyret launched their Second-Hand online concept on their website. In practice, this meant that as a PO.P+ member you could easily buy and sell used PO.P garments completely free of charge. Polarn O. Pyret's wanted to make sure customers would pass along the high-quality PO.P garments to a new owner when your child had grown out of them.
This year, they took it a step further and introduced PO.P Second Hand to all their physical stores in the Nordics. All PO.P+ members now have the opportunity to hand in used PO.P outerwear in any store, and in return, will receive a voucher that you can use in-store.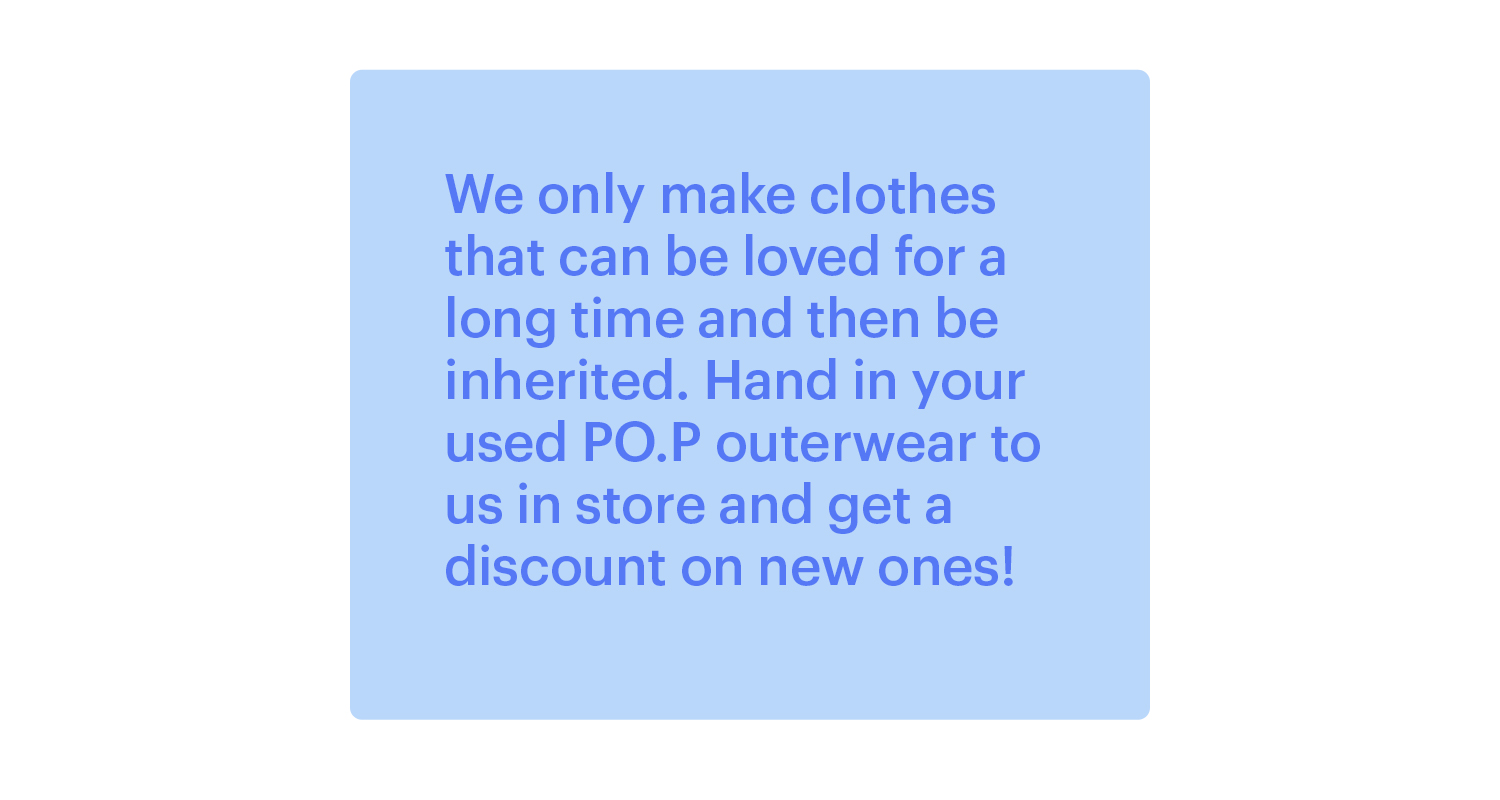 We wanted to translate this success online. So we tested the PO.P Second Hand messaging and communication through paid advertising, and more specifically across paid social platforms. The used and loved campaign was a perfect opportunity to coordinate offline and online channels.
The results from our used and loved campaign
We focused on a campaign for reusing clothes instead of buying new ones:
When evaluating these ads, we saw that the overall ROAS throughout the campaign period was 2,100% in the Norwegian market, 3,464% for the Swedish market, and 2,026% for the Finnish market. To put this in perspective, in the previous year, PO.P had an average ROAS of 575% in the Norwegian market, 2022% for the Swedish market, and 68% for the Finnish market.
Moreover, we had gained great engagement and positive feedback in terms of likes, comments, and sharing through our ads, providing us with a larger reach through ads going viral. As a direct result of this, we increased incoming traffic to the website and were able to gather more audience data and make larger audience buckets to apply further down in the funnel.
What next?
Over the past year, Polarn O. Pyret has undergone a huge transformation in the way they operate both their business and marketing models – and we've set out to find the most effective way to communicate their core values along with them.
Indeed, this was just a small portion of the work we've done with Polarn O. Pyret over the previous year. To learn more about our move from offline to online channels, attribution models, and product marketing strategy – download the ebook for free today.
A huge thanks to the whole Polarn O. Pyret team for working with us on this, and of course, my colleagues Madeleine Bakken and Line Klaastad Kristiansen for their help bringing this whole project to reality!