"What do you want to be when you grow up?" A digital marketer

Sara Markstedt
HR Generalist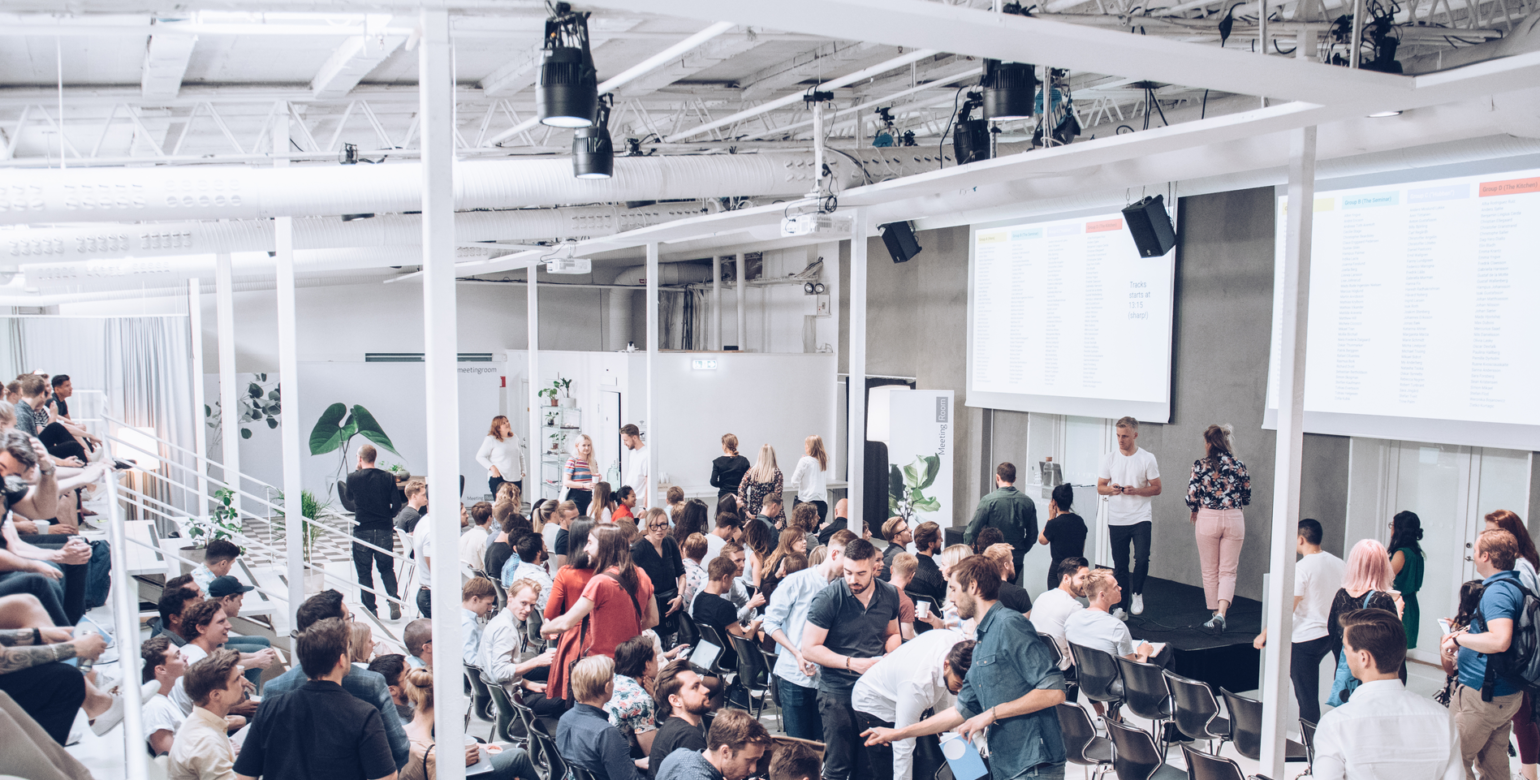 For those that have ambition, reaching the top of the career ladder can feel like a distant dream. It's a long road; the culmination of years and years of education, investment and performance, allied with an element of being in the right place at the right time, and, possibly, a sprinkle of good fortune.
Or is it?
At Precis, we don't believe career progression has to be this way. We're a young company – with an average age of 31 – that's growing fast; in 2020, Precis Digital hired 132 people and received 4,600 applications.  We like to think a little bit differently in the way we hire, mentor and develop our people. As we say in our employee handbook, hires and promotions should cut out the politics and should be all about performance and impact.
"One of the main strengths of Precis, in my eyes, is the fact that you can learn from so many talented people," says Steffen Kaufman, former professional poker player, turned CEO of our Aarhus office.
"At Precis we have an extremely flat organisation, which means that anyone, at any time, can reach out to whomever they want. This means that your ability to learn and develop at Precis is mainly down to your own capacity for juggling your main work responsibilities while balancing whatever you want to learn."
Many of our employees may not have dreamed of being a digital marketer in their youth, but now they're here, they won't look back.
The Precis success story
We're a humble bunch, but we're also seriously proud of what we've achieved since Precis launched in 2012. We're not even ten years old yet, but those first baby steps quickly transformed into giant strides, and we've developed into a multi-national company with over 350 employees – and counting.
From starting out in Stockholm, we've expanded to open seven other offices, across additional locations in Sweden (Linköping, Gothenburg); Denmark (Aarhus, Copenhagen); Norway (Oslo); Finland (Helsinki) and the UK (London).
As we've grown, so have the number of people in the Precis family and the size of our teams and the provision of services we offer. From Search to Analytics and SEO to Creative and everything in between – we have the benefit of an established reputation across services, but the innovation in new areas is akin to that of a start-up.
Fundamentally, aside from industry recognition, we're fuelled by the experience we provide for our employees. We're proud that we've been among Sweden and Denmark's very best workplaces – and this year the best place to work for Women in Denmark too.
But don't just take our word for it, what do our people have to say?
Culture, for us, means much more than 'nice to have' perks and benefits. It means holding our core values close: being helpful and collaborative; sharing knowledge and inspiring others; encouraging diversity and inclusion; prioritising good judgement and transparency over rules and hierarchy, and striving to be honest.

The intern-turned CEO: "There's no school that's better than being at Precis."
Johan Wolfbrandt is a superb example of someone who typifies the ethos, spirit and culture of Precis. After living and working in Dublin, he moved back to Sweden to study. But discussions with Precis co-founder Robin Cavonius culminated in starting an internship in Stockholm in 2014 and a change of career plan; instead of continuing his studies in Ireland, he stayed in Sweden.
"I was weighing up further study against working, and came to the conclusion that there really was no better school than being at Precis," he says. "The rest is history."
Not one to bide his time, within a year or so, Johan saw opportunities emerging. He took a breath and pitched a plan to open a Precis office in his home city of Gothenburg. It was a bold move from a digital specialist and one that paid off.
"Yes, it was definitely a long shot," he laughs. "But I think there is a sense of so many open doors, you can take on as much responsibility as you want to; there is a really vibrant atmosphere. At Precis I saw my chance to accelerate very quickly."
By 2021, the Gothenburg team numbered around 60 people and by the year's end should be housed in a new office, its third (and largest) since launching.
"It's been quite a journey," says Johan. "But while things are different in some ways because of the size we are now compared to the start, I still sense the same spirit. We still feel very much like a start-up in many ways."

The part-time student: "I'm continually learning new skills"
Saara Terho joined Precis in September 2019, as a Digital Specialist based in Aarhus. She combines her role while studying a Masters in Economics and Business, and will be graduating in the summer of 2021. She's embracing the Precis value of having curiosity at heart and striving to always learn.
"Before joining Precis, I had no prior experience with Digital Marketing," she says. "I heard about Precis from a friend and was told great things about the work environment and the team. I was also interested in the learning opportunities, as I found out that they give a lot of responsibility to their student employees at Precis."
"My tasks consist of managing a client relationship and optimising accounts for Google Ads, Amazon and Facebook. One of the best things about working at Precis is that you get to spend time learning new skills and you get to have an impact on which direction you start developing your skills."
Saara will join Precis full-time in the autumn as an associate digital specialist within the Arhus office.

The data engineer: "I have the freedom to approach tasks as I see fit"
It's been an unconventional journey to Precis for Honduras-born Ana Gabrielle Rodríguez, based in Oslo. Her professional experience has been varied. "I bounced around a lot, teaching English and writing copy while studying in Taiwan," she says. "In Honduras, I was a Payroll & Customer Service Specialist for an HR Service Group, managing client's employee's payroll and taxes."
After moving to Norway, Ana studied an MSc in Business Analytics at BI Norwegian Business School. She graduated in 2020 and joined Precis in September as a Data Engineer. "I'm also part of a cross-office data specialist team," she says. "I have the freedom to approach tasks as I see fit, while also counting on the knowledge of the wider team."

The career changer: "I talked about how I was longing for a new adventure."
Shad Emin's arrival at Precis is proof that a casual conversation can open up a whole new career chapter. Having worked as a breast cancer researcher for a year, he then moved to AstraZeneca and spent four years as a Laboratory Engineer.
And then, almost by chance, a change of direction.
"During a barbeque, I talked about how I was longing for a new adventure," he recalls. "I meant within the medical industry and didn't realise that I was talking to a CEO in digital marketing, but hearing my ambitions he asked me to consider applying to Precis instead. The rest is history."
Shad was recruited as a Digital Specialist in February 2020, working in Linköping. "No week looks the same as the other, which I truly love," he says. "I'd say it's one of the best choices that you could make, even if your educational background is different."
He adds: "At Precis, we're a diverse group of people with different backgrounds, personalities and ambitions. Although I've worked at a lot of different places, this is the first one where all co-workers are happy with what they do, the management and the company as a whole."
This links in very strongly with another of our Precis values: we know excellence thrives in joyful and diverse environments.

The digital specialist: "I wanted to find a company that would develop my knowledge and help me progress as quickly as possible."
Paranjay Kumar has been with Precis since October 2019, and works out of the London office as a Digital Specialist. An E-Business Management graduate, he was looking for a job after university that would develop his knowledge through learning and practical experience, and help him progress his career quickly. Precis ticked both boxes.
"Joining Precis in London gave me the best of both worlds," he explains, "joining a relatively large organisation and a start-up at the same time. This gave me experience of the hierarchy of working within a global organisation and the ability to work in multiple roles similar to how people usually work in startups."
"Additionally, Precis's ambition to grow to become the largest independent agency globally and their work within sustainability and marketing ethics also attracted me to the company."
What comes next?
Are you interested in becoming part of the Precis Digital success story? For us, your skills, attitude and experiences are the characteristics that give you an edge above the rest. If you have a hunger to learn and the determination to succeed – Precis is the right place for you.