Why use custom templates for dynamic ads

Ole Marius Tørrisen
Digital Designer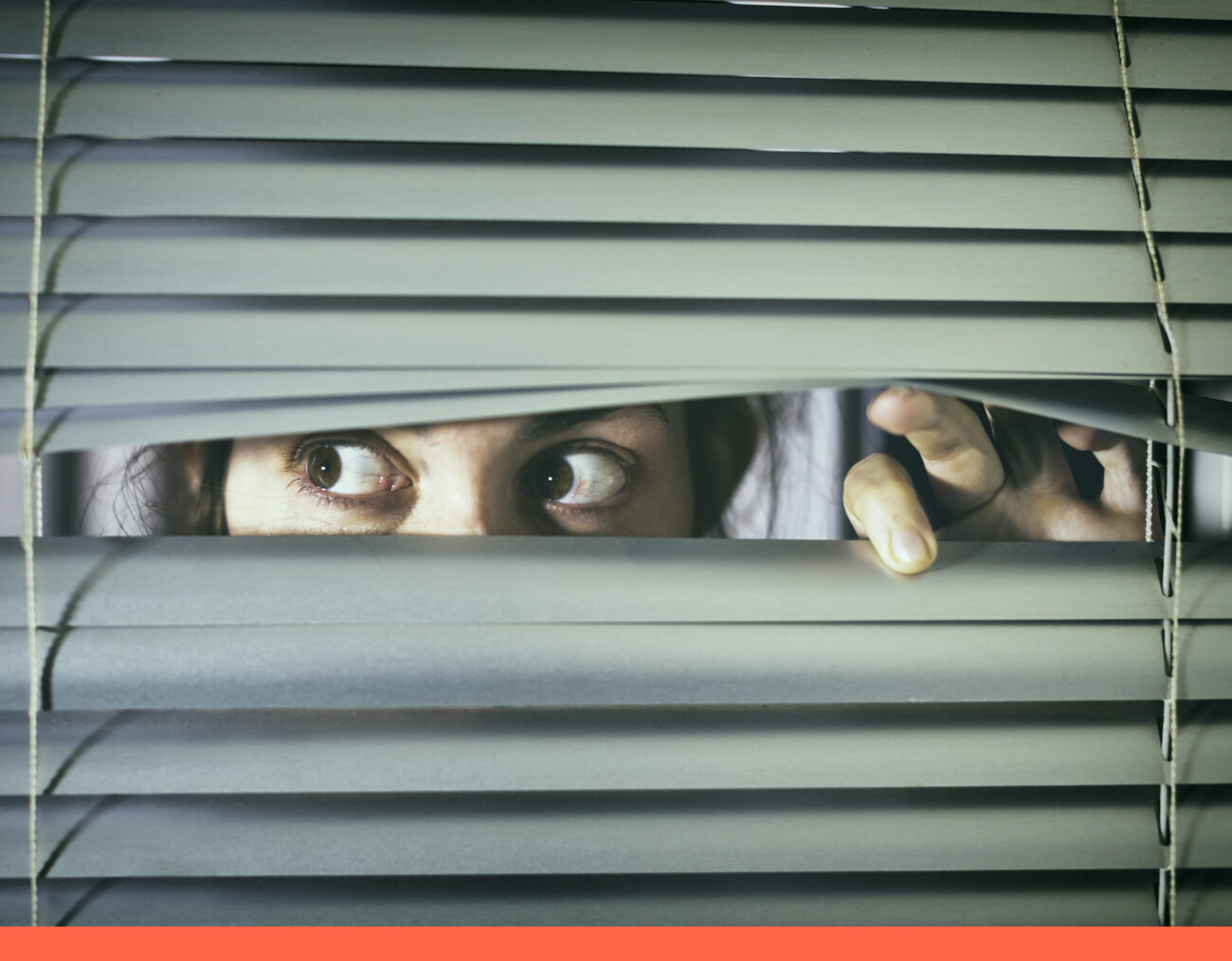 Dynamic product ads (DPA) drive sales. We know that for a fact. Another fact that is hard to get away from is how terrible most of them look. Remarketing ads are often seen as an ugly stalker who knows everything about you, and follows you everywhere.
Helping, not stalking
How can we turn our ads from being perceived as an annoying stalker, into a pretty and helpful friend? The standard templates look spammy, but with simple touches, we can make the ads look more tailored and less automatic. Consumers will then begin to perceive Dynamic Product Ads as helpful advice from a friend, rather than a pushy stranger.
Move your ads up the funnel, and ensure consistency.
By making your own custom templates you can ensure that your ads stay on brand. DPA campaigns are normally thought of as lower funnel, but with branded templates they can also act as mid-funnel ads. Having a good design will ensure brand recognition. Simultaneously it can help build trust and confidence, both for the consumer, and the brand themselves. Some brands will refuse to use DPAs, despite their good results, just because of their look.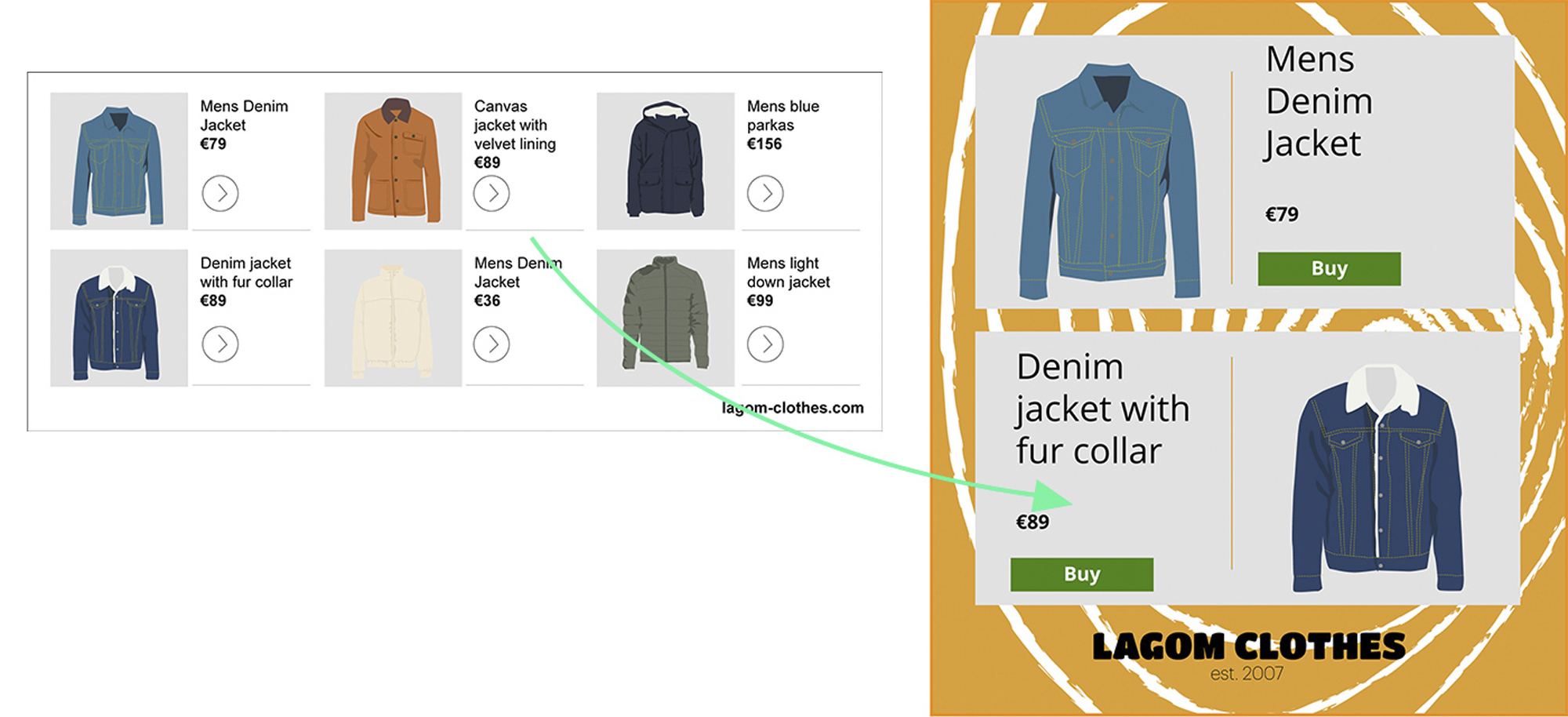 So how can you do it?
For Facebook one of the best options out there is Smartly. Utilizing the product feed, we can pull out images and text that are relevant to the ad. The product feed is a file that includes image links, product name, prices, landing page URL and other relevant information. By using different tags we can use the feed to filter out products on sale, specific categories, gender, age groups and more.
The same can be done for Google Ads campaigns with Google Web Designer. By connecting Google Web Designer to Studio you can even create dynamic templates for programmatic ads.
Most e-commerce sites will already have a shopping feed set up that can be used straight out of the box. Some adjustments to the feed can also be made in Smartly. For instance shortening product names or the formatting of price tags. This will minimize the time invested into trying these formats. The set up itself can be made relatively swiftly in Smartly and Google Web Designer, especially if all assets are already readily available.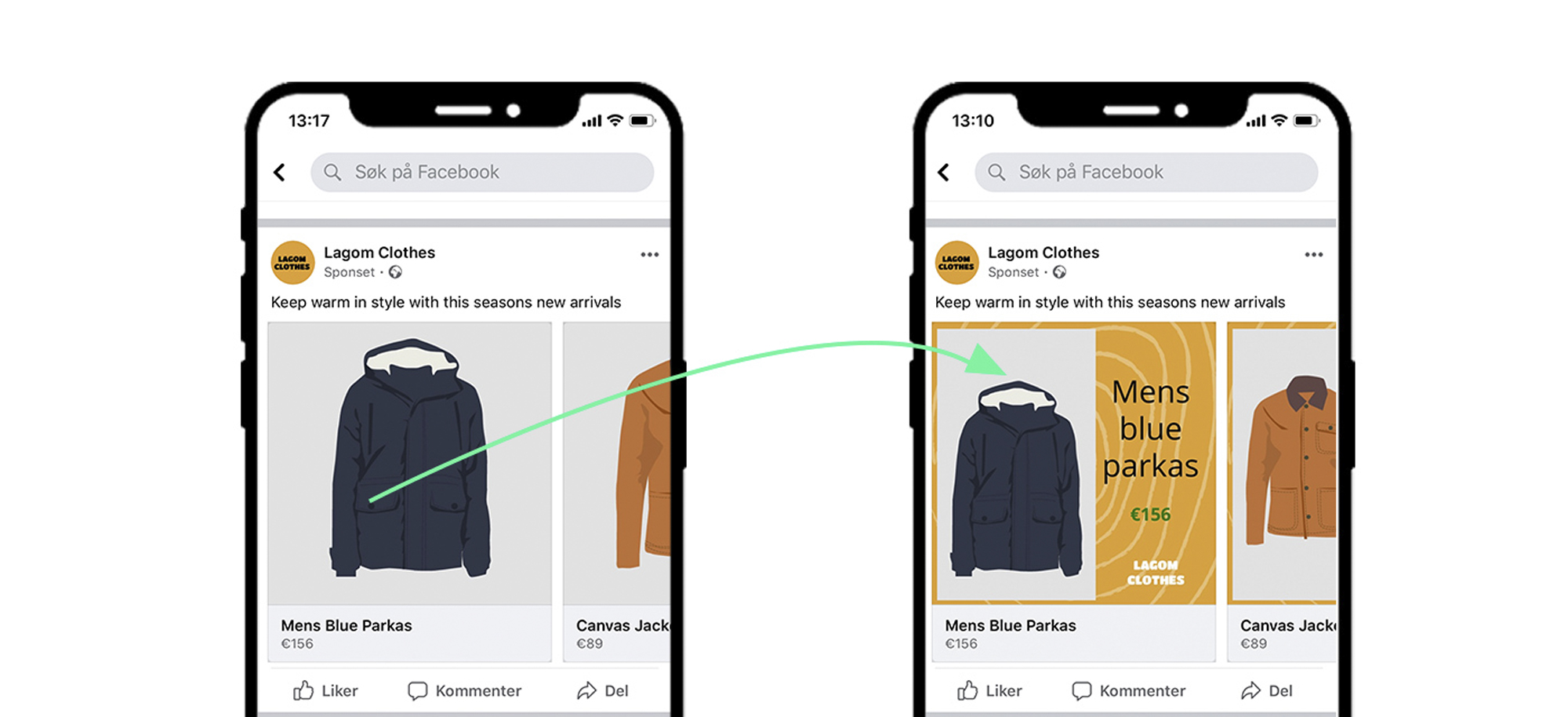 Not just for your always-on remarketing campaigns
Do you have a special sale coming up you would like to highlight? What about Valentine's day campaigns? By using dynamic ad templates for these campaigns, we can ensure that potential customers get relevant information. Creating just one template is obviously a huge time saver. Rather than having to create multiple ads for all the different ads on sale, we can create just one, and let the magic happen. Updating products or prices will also become much less of a hassle.
Stand out from the crowd
Not only do the custom templates look better, and ensure brand safety, they will also separate you from the crowd. There are thousands of other webshops out there using Google and Facebook's standard templates. By creating your own template you can reduce ad blindness, and create a stop effect. This is especially true during hectic sales periods like Black Friday or Christmas when everyone is fighting for the consumers' attention.
The numbers don't lie
Ok, so it looks better in theory, but does it work? Short answer: Yes! Most advertisers see improved metrics across the board, from increased revenue, decreased ad spend and even increased ad recall.