COVID-19: Effect on marketing and potential strategies

Christoffer Lötebo
Group CEO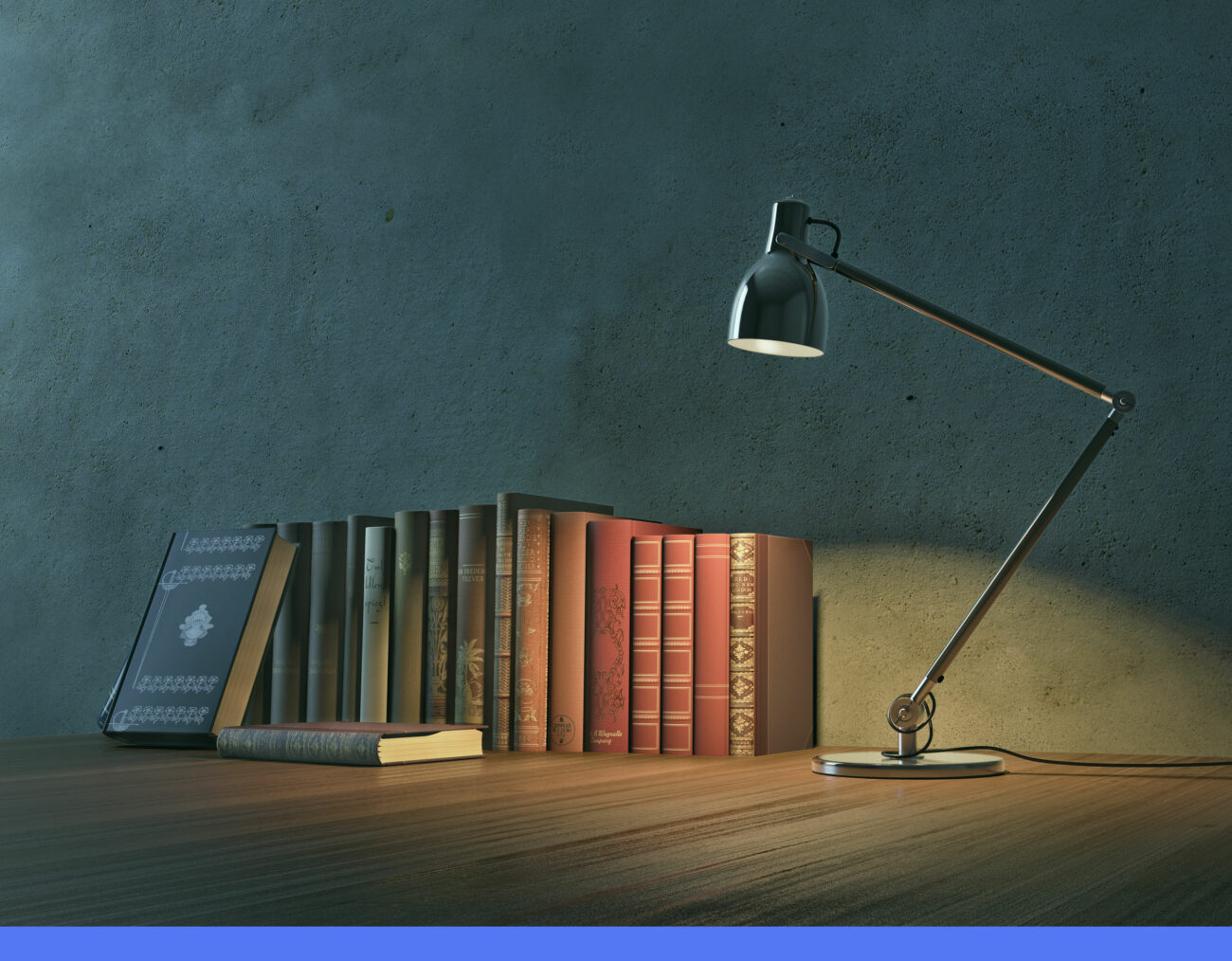 In this article, we'll look at margin segmentation and cover several, actionable tactics spanning from attribution to optimisation targets – to ensure cost-efficiency across your marketing efforts.
The COVID-19 pandemic has affected a majority of businesses, and while there are numerous reports and articles about the overall impact on business and society, we want to focus this blog post on the effect on marketing and potential strategies. We hope that it will spark some ideas for how to limit the adverse effects of a business and hopefully contribute to the survival of more healthy companies. The main focus for this blog post is businesses that have a digital presence, but hopefully, some of the strategies can be applied to offline businesses as well.
What makes the current situation unique is that it has presented many businesses with either a demand shock, a supply shock or both. Clearly, some industries, such as travel and hospitality, have experienced an extreme effect. Others are experiencing a varied impact. For instance, online pharmacies and streaming services experience a positive effect on their demand. Others, such as e-commerce pure players, see a small to medium increase due to the nature of social distancing and the more prominent role of e-commerce. Omnichannel retailers face a shift to digital while, at the same time, struggle with their liquidity due to large fixed costs. Some are stuck between a rock and a hard place, demonstrated by the urgent need of online revenue but the lack of liquidity to generate that revenue. Common for most industries is that this situation calls much more attention to the question of efficiency, since there is a run for liquidity.
For an e-commerce company, marketing cost is many times the biggest variable cost in their margin segmentation. Therefore, it becomes crucial to understand the efficiency of these costs. However, this situation calls for much more granularity than analysing these costs at a total level or on average. To explain that, let's have a look at a fictitious example of a margin segmentation for an e-commerce business. This specific example is presenting the margin segmentation per order. It is also the case that this is a company that is entirely focused on growth maximisation, which is why the gross profit 4 is optimised to be 10%. That is the level that they can afford given the fixed costs and their access to liquidity.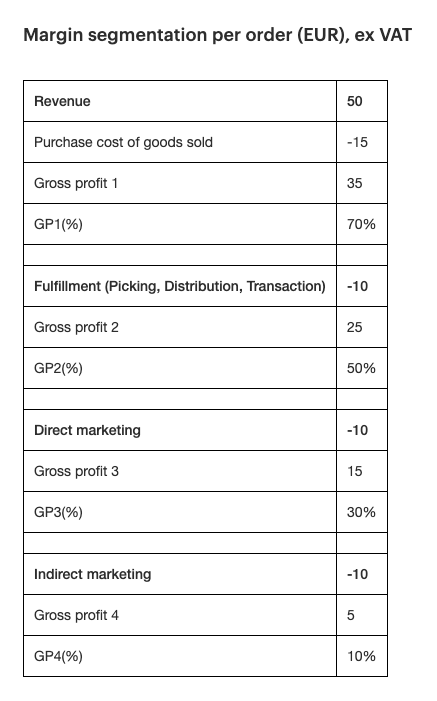 In this case, the company has taken all costs related to an order and all order data to calculate this margin segmentation as an average per fulfilled transaction. It is a common method for cost guidance, and it informs most decisions relating to the target setting of digital marketing and optimisation of the supply chain for cost reduction.
Let's have a look at another margin segmentation. In this case, this e-commerce company has suffered from the current COVID-19 situation. Let's see how that has impacted the margin segmentation: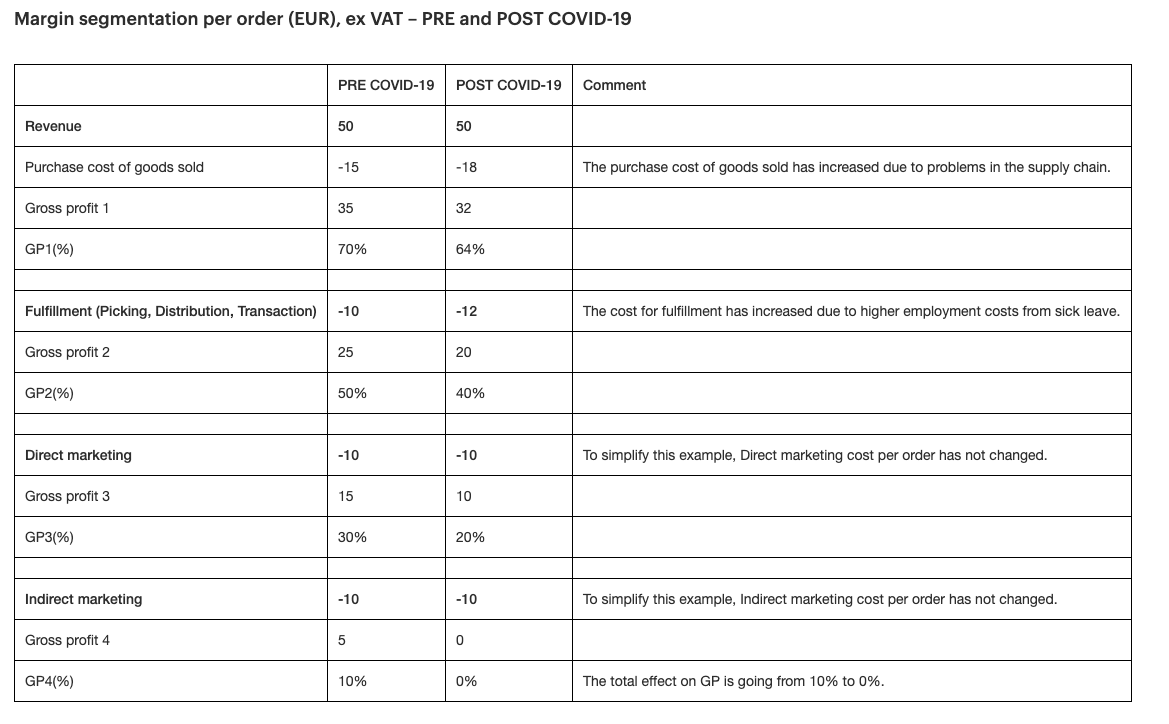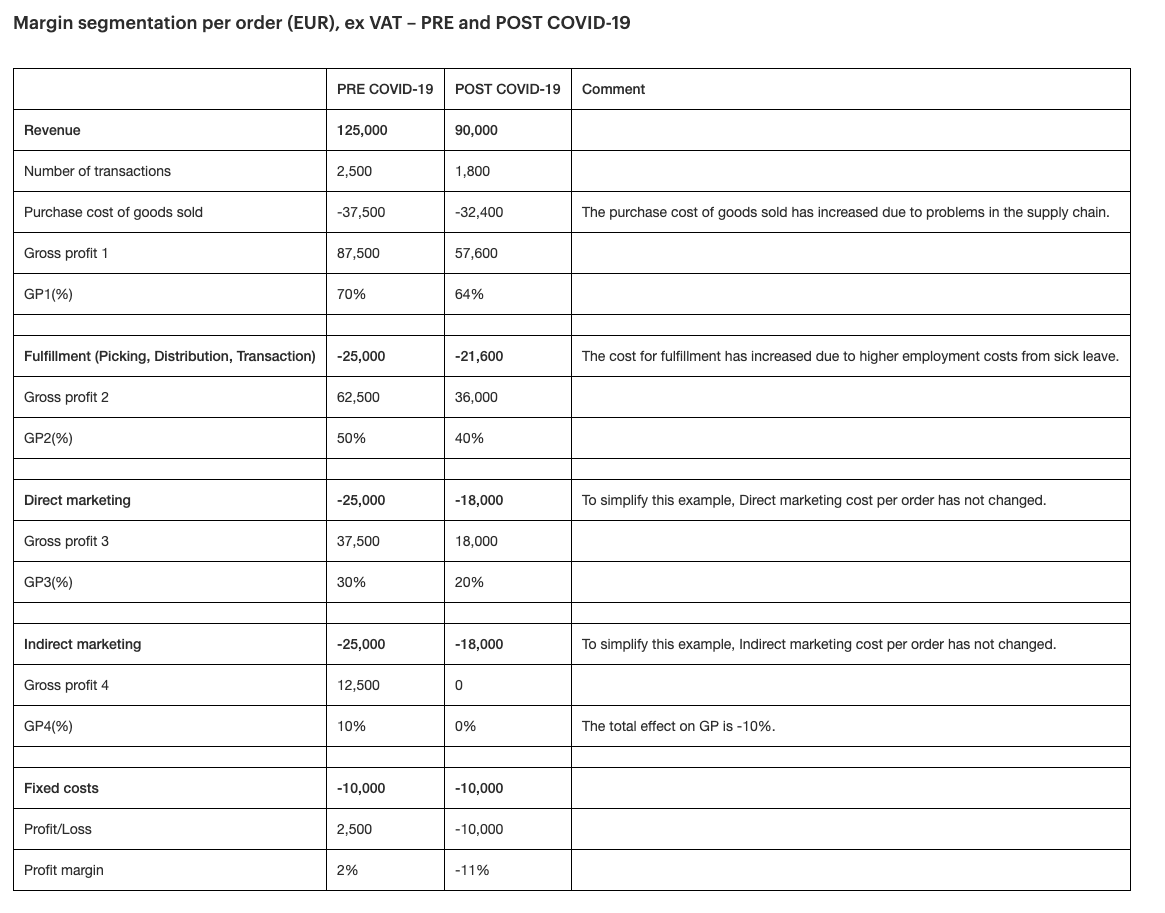 Based on the financial situation of this company, costs need to change for the business to survive. For the sake of this example, let's assume that this company needs a GP4% of at least 10%, based on their liquidity. In that case, there is a couple of things that can be done:
Supply chain: Depending on whether it is possible or not in the short term, securing the supply chain would have a positive effect on the gross profit.
Fulfilment: Depending on whether it is doable, and worth the risk of decreased customer satisfaction, reducing the fulfilment workforce could be an option.
Lower direct marketing cost: Decrease the Direct marketing cost (e.g. Paid Search) with the goal to lose as little future revenue as possible.
Lower Indirect marketing cost: Decrease the Indirect marketing cost (e.g. Online Video) with the goal to lose as little future revenue as possible.
Apart from this, the company will also need to explore possibilities to reduce their fixed costs. So far, we have only looked at the margin segmentation per order. However, since fixed costs are in fact fixed, there is a need to analyse the situation in total. Let's have a look at the margin segmentation in total, including fixed costs, for two weeks before COVID-19 and two weeks after: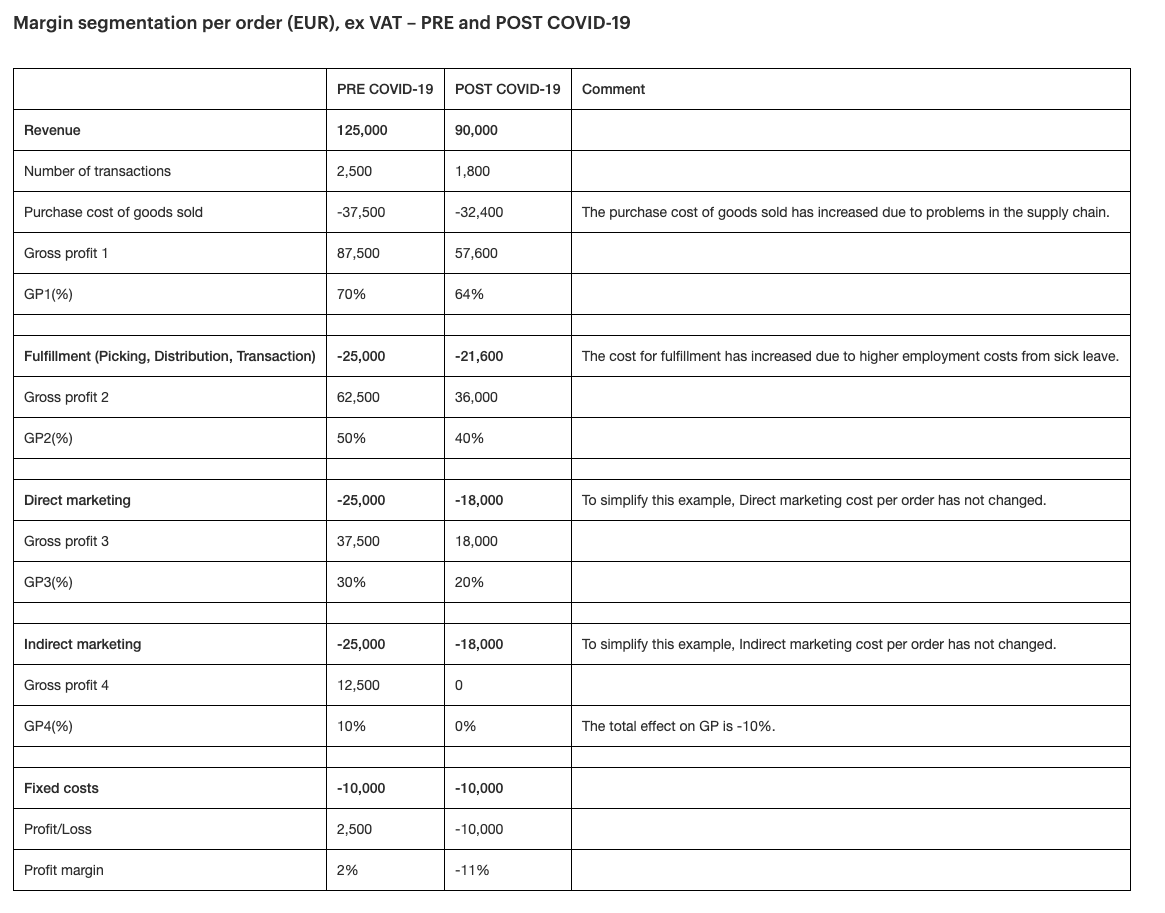 In this example, we can see that the e-commerce company has suffered from a decrease in demand of 28%. All in all, this is the effects that the company is experiencing:
Overall demand has decreased by 28% resulting in less revenue.
Increased costs in fulfilment with 20%
To achieve that, you will need to decipher the above averages and analyse the effectiveness of the marketing strategy on a much more granular level. It will not be enough to analyse the effectiveness based on the average per order or in total.
For this company, access to capital will not support a strategy of a profit margin that low, so action needs to be taken. The challenge going forward will be to survive as a company and at the same time reduce the potential negative impact on revenue, to come out as strong as possible in the future. Thus, it becomes essential to make the right call regarding the marketing investments. To achieve that, you will need to decipher the above averages and analyse the effectiveness of the marketing strategy on a much more granular level. It will not be enough to analyse the effectiveness based on the average per order or in total. The reason for that is that it does not tell you anything about the actual effect of marketing as a whole or even less for a specific channel.
In a situation like this, the marketing strategy should be entirely focused on finding out the true incremental value, and execute the best possible strategy to optimise towards maximising that value. That strategy would have the most significant positive impact for the company, and given that marketing is one of the biggest variable costs, it might be the key to surviving. Therefore, let's move over to focusing fully on marketing, and leave the other cost drivers for now. To make this as actionable as possible, and hopefully spark more ideas for those who are reading this, let's go through our suggested action list.
Marketing action list
1. Attribution
The most important part when analysing the effectiveness of your marketing activities is attribution modelling. In this context, we also include the concept of Marketing Mix Modeling and incrementality studies in "attribution". To begin with, we strongly recommend that you are running a data-driven attribution analysis comparing the period before COVID-19 with the period after. The effects from COVID-19, maybe most prominent from the social distancing, have had significant effects on user behaviour. This analysis will uncover this change, and the impact from marketing channels, thus allowing you to optimise your marketing activities more efficiently. Remember that this analysis is also important to do if one needs to cut costs more drastically, to minimise the negative impact on future revenue.
2. Short term vs long term effects
Given that no one can know for sure if a specific marketing activity will lead to revenue, marketing investments always contain a certain amount of risk. Successful marketing strategy is a balancing act, where short term and long term sales need to be optimised at the same time. Depending on the liquidity situation, the focus on these two aspects of marketing might need to be changed for some time. If you need to make drastic changes, we recommend thinking about your marketing investments from this risk perspective. Clearly, tapping into existing demand from Paid Search will generate short term revenue associated with a lower risk compared to trying to generate that revenue from more upper-funnel channels. However, executing that specific strategy might lead to lower value on the more long term.
3. Existing customers
Adding to the focus on incremental revenue, we recommend analysing your customer database to find opportunities for both growth and cost-efficiency. Due to the changes in user behaviour, resulting in many people turning to online for the first time, this could be a situation where you can generate a lot of new customers. Depending on your liquidity situation, and how drastic you need to be, it could be an idea to exclude all your current customers from paid advertising, and focus entirely on new first time customers. This would need to be paired with close observations of what your competitors are doing, as not to run the risk of losing parts of your customer base through undercutting offerings. However, the assumption being that targeting existing customers will provide less incremental revenue since many of them will convert anyway when they have a demand, depending on the loyalty in your customer database. This strategy can be guided by analysis of customer lifetime value to understand your historical and predictive loyalty.
4. Product strategy
As with the importance of deciphering the averages and the totals of your marketing investments, you should break down your marketing investments on your product catalogue. Parts of this will be about optimising your marketing investments based on real-time supply, and parts will be about optimising based on product margin. It is more important than ever to not buy traffic to products that are out of stock, and it could be a high potential to optimise the margin with differentiated strategies based on product margins. It also becomes essential to understand what products will sell without marketing. For instance, if you have scarcity for some best-sellers, then it makes little sense to push these hard in paid marketing channels. This subject is something that we elaborate more on in this blog post.
5. Challenge optimisation targets
Depending on your financial situation, we recommend challenging the current optimisation targets. Many companies now need to shift to a short-term profit perspective in all aspects of their operations, and if that is the case, marketing needs the same focus as well. If you haven't yet invested resources in measurement, allowing for profit bidding in digital marketing, now could be the time. Read more in this previous blog post.
All digital marketing channels are affected in different ways. Some experience more intense auctions coming from omnichannel retailers turning more to online. Some experience lower CPMs due to increased media consumption in combination with decreased bids from competitors. Independent of the situation in your most important marketing channels, it is definitely time to leave no stone unturned in order to be as optimised and efficient as possible. Again, always think about your strategy in terms of incremental revenue. Some ideas that could have a good effect on the cost side with a limited decrease on the revenue side are:
Challenging your investments on branded keywords in paid search, depending on the competition.
Challenge your existing MarTech suite, depending on the proven direct revenue impact.
Optimising more thoroughly based on geographic dimensions, due to differences in social distancing behavior.
There is a common consensus that the current situation will turn into a recession. While some of the ideas we share here are more targeted at the current phase we are in, some will be as important when executing your marketing strategy in a recession.
Stay safe and may the force be with you!
//Christoffer
Christoffer Lötebo
Group CEO