Marketing through the generations: Jens Nielsen

Isabella Dodkins
Group Marketing Manager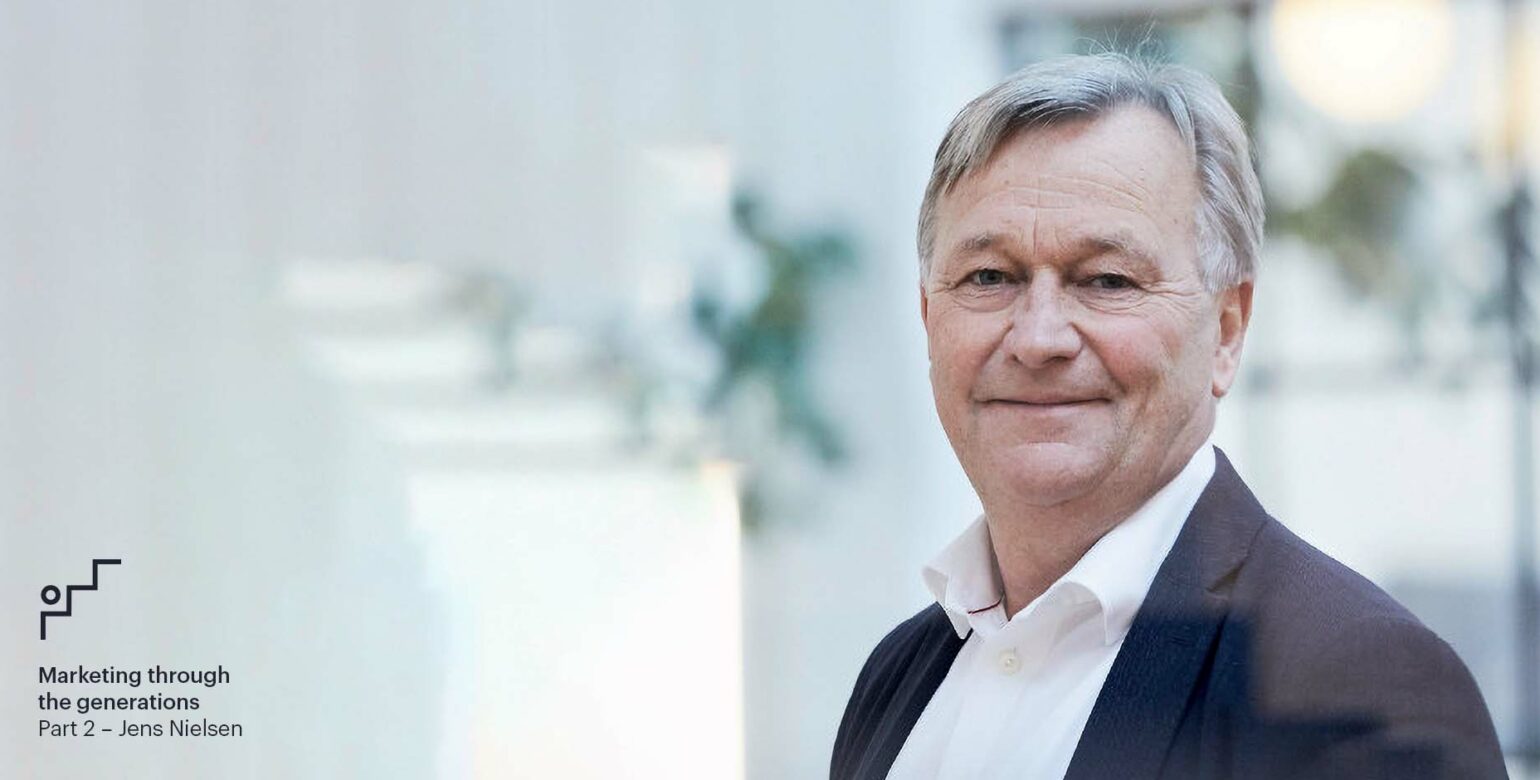 Time and time again, we hear marketers cry the death knell for this and that trend. How many of you have attended events entitled 'The future of (insert industry marketing here)' or had your LinkedIn feeds saturated by the next hack that's going to transform your way of working? Too many of you I bet.
The idea behind this series is to show the enduring principles that can be applied to any marketing strategy. We ask the experts who have literally 'been there, done that' to see what you as marketers should really hang your hat on.
This time around we are talking to Jens Nielsen, now CxO of and board level advisor at consultancy Zesta. Jens has spent more than 15 years of his career living abroad working as a consultant and marketer in both Hong Kong, London, Copenhagen and Hamburg. If you ask him, the fundamentals of marketing haven't changed over the years; communication is still dictated by the terms of the receiver.
Read on or watch the video below with the full interview to hear what Jens thinks is the biggest challenge that faces our industry and to learn what he thinks the trends are that will endure for generations to come.
Can you tell us a little bit about your career?
Back when I started my career, there were really only two places to be. If you wanted to be a management consultant you would chase a job at McKinsey and if you were more into the new world of marketing, sales, information technology and electronic data processing you would go for IBM. I started as a trainee at IBM after I graduated from Copenhagen Business School. After that I started my own company producing flat panel displays – back when there were no flat screen televisions or computers.
I then went on to work as a consultant for different projects. For more than eight years I was Managing Director and on the board of Guava Holding (later Netbooster and now Artefact), a multinational digital marketing agency selling SEO and PPC services. At the time, we also had some 'data' but this was very much in the peripheral of the services we provided – which is interesting to think about now when you see how the industry has developed.
How has the industry changed throughout your career?
The fundamentals of marketing haven't changed. It is still about reaching an audience with the right message at the right time. What has changed is the tools and technology we have available to actually do that. Back when I started in the industry, brands could ask to get some numbers from their media agency, but those numbers didn't really tell you anything about how your efforts actually performed.
Now you can be much more sophisticated about what you do. Technology is allowing us to react to changes in real time – with performance marketing making it possible to be more precise and efficient in your marketing investments.
The next step is now to use this to also create relevant content and user experiences and actually start developing these on the terms of the receiver.
On a more concrete level, how has the marketing practice developed and what skills do you need nowadays compared to earlier?
Sales and marketing is about getting your hands dirty and working hard.
At IBM my job was to be close to the customer and make sure they bought what I was incentivised to sell to them. But it was also in the very early days of informational technology and IBM was in a very favourable market position.
After my time at IBM I was also sent to London to open up a subsidiary of a Danish IT company with one of my colleagues. This was a 50 person company at first. They made shipping and marketing software. Here, it was all about producing brochures and then following up on the phone trying to close the sale. So a lot of cold canvas sales where the most advanced technology was the computer screen we had connected to our fax and telex machines.
In both of these jobs (IBM and the subsidiary company) I couldn't hide and I was involved in everything from the initial contact, to settling and preparing the deal.
The challenge nowadays is that at a lot of the big tech companies the sales and marketing process is split up, so you lose touch with parts of the process. But like my time at IBM these types of jobs are an instant validation of you and your abilities, something that you can take with you for the rest of your career.
So the big tech really changed a lot of things. From your point of view, what changed when Google came along?
First of all, what happened back then was monumental. I'm not even sure we were aware of what happened while it was happening.
Still at that time digital media and marketing was way smaller than traditional media. In many companies you would have the sales department and the marketing department, and then you would have this little emerging "online" marketing department. In other words, there was digital marketing and real marketing. Now, digital has taken over.
On the sales and marketing side it is not until recently that there has been a growing awareness that you can actually measure your brand equity investments. Rebranding as an example.
It was the rebirth of advertising and marketing. Digital was the new kid on the block solving the issues that the traditional marketing industry was facing. And as this was new to everyone there was a huge excitement about now being able to measure everything. In the beginning this led to the brands handing over too much of their control of their marketing (if you ask me).
As an agency the conversation with the clients gradually transformed from you being a supplier to all of the sudden having more tactical and strategic discussions.
Where do you think leadership should focus their investments in order to succeed in digital?
So, if we look at it from the brand side first. Leaders should demand even more transparency. As a result of this initial handing over of responsibility for their digital marketing and data to external partners that I mentioned earlier, the agencies have the freedom to handle their clients' money without really making them understand what the return on investment was. Nowadays brands should – and are already – demanding much more transparency to what their ad spend is going to. On top of this, brands should also demand to own their data. So the leadership task here is really about qualifying the data that is related to your core story as a brand and then bringing that on to the content production.
From the agency side, leaders should similarly focus a lot on creating a transparent service that helps and supports the client in qualifying and keeping their data safe and utilised properly.
Sounds like there is a shift of priorities happening from the top level?
There is. The biggest challenge for leadership today is how to activate their ESG strategy. The new generation is demanding that brands take part in saving the planet, even more than from politicians.
Traditionally profit has been companies' top priority, but that isn't enough anymore. Today profit shouldn't be prioritised over stakeholders including employees, customers, partners, investors and even the local community that you are a part of. The real challenge for leaders now is how they communicate the company's purpose to all stakeholders on an ongoing basis. This should be genuine and consistent so you are not being called out for greenwashing.
What advice would you give to someone at the beginning of their marketing career?
My best advice stems from an experience I had at the very beginning of my career. I was 26 and working at my first corporate job at IBM. At this time, I hadn't put too many thoughts together in thinking about planning my life or career. As a part of the job I was on a weeklong stress management course in an idyllic cottage in a forest just outside of Brussels. There with me were two psychiatrists and 30 of my 50 year old colleagues. During the week which was spent with meditation, yoga and other mindful activities I experienced my middle aged colleagues break down one by one, regretting how they had spent the last 30+ years of their lives neglecting their personal life to climb the corporate ladder.
Some talked about not having dealt with losing loved ones and massive mental health issues and this made me promise myself that I would never end up in a similar situation. This wakeup call in fact also ended up shaping my career which since then has been predominantly self employed.
It sounds like a cliché, but my biggest advice is to not put too much emphasis on what worries you in your career but rather find out what is meaningful for you here and now. I mean, how many things that we actually worry about today matters in ten years time?
Focus on your strengths and don't spend a lot of energy on becoming mediocre at something. If you feel good about doing something, it is usually because you are good at it. Find out as you go if you want to become a generalist or if you want to be a specialist.
And if you want to take advice from an old guy like me, then I will say, get your hands dirty in working and understanding some of the tools. Get acquainted with some of the technical tools whether it is programming language or some of the more technical aspects, that is the best foundation to have in your marketing career. Mostly because us older generations don't have those skills, so they are very valued around the companies.
Conclusion.
The enormous development of marketing the past 12 years is leaving the new generation of marketers a lot of interesting work to do. Taking Jens as an example; he started working predominantly with SEO, Google and sales and today he is advising global leaders on how they should activate their ESG strategy. I think that really illustrates the potential and opportunities that lie ahead for people joining the industry just now.
Where there traditionally has been a conflict between sales and marketing and brand equity, they are now merging. The marketing responsible who can embrace these two elements and bring them together are the number one strategic position in the company. This person could very well be a CEO of a global company.
If you enjoyed this article, check out the first part in our series, where we speak to former Marketing Director of Heinz Beans, Keith Laurence or follow us on social media to stay in the loop for the next release of 'marketing through the generations'.
Thanks to Jens Nielsen for generously lending his thoughts and time for this article.