Paid Search and Shopping Planning – Black Week Edition

Christian Rumpelthiin Ejlertsen
Quality Assurance Lead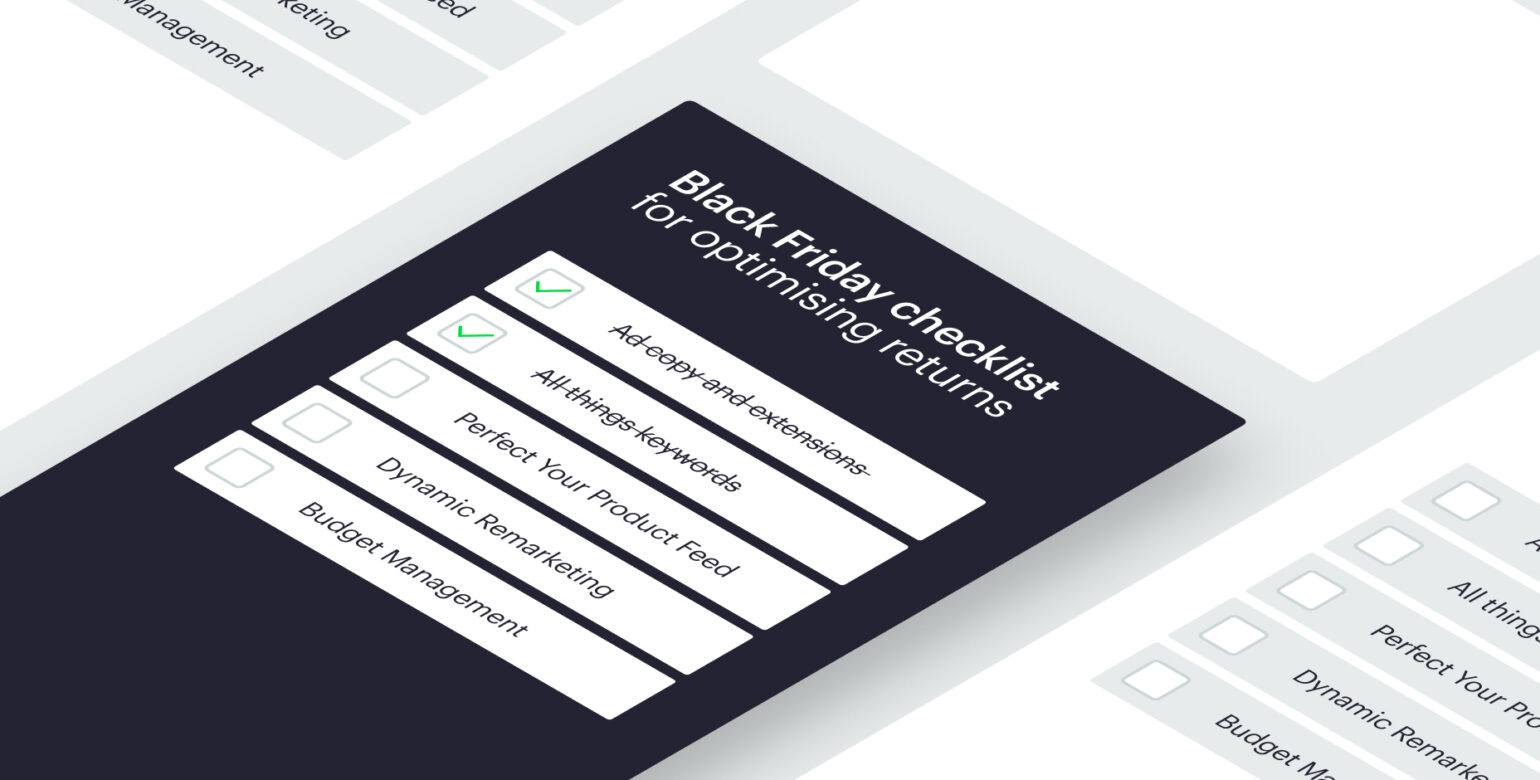 Black Week stands tall as one of the most eagerly anticipated shopping events of the year. With consumers in a frenzy for incredible deals and discounts, this week presents an exceptional opportunity for businesses to boost their sales and revenue.
Your focus during Black Week should revolve around implementing strategic and effective Paid Search and Shopping campaigns that seize this unique moment of high consumer demand. In this guide, we'll dive into some of the most essential strategies and planning tips that will help you make the most of Black Week and pave the way to your success.
Part 1: Black Week planning
Do you know what you want, what you really really want?
An important part of getting Black Week ready is deciding what you want to achieve during this year's holiday shopping season. The first step is to look at last year's data to get insights into the impact of 2022's Black Week in terms of long-term profitability. This is something we strongly encourage you to do.
Now that you have a clearer idea of how things went down last year, it's time to consider what your goals for this holiday season are. Are you looking to:
Clear out specific categories of stock to improve cash flow?
Outshine competitors in a particular product category?
Achieve something else altogether?
Setting clear targets and strategies for existing and new customers is a great way to effectively measure the impact of our campaigns after Black Week. Here are a few things you might like to evaluate after the holiday season:
Did we attract completely new customers during this period?
How profitable are these customers in the long run?
How can we ensure that our existing customers choose us over our competitors?
Example: Say you want to effectively maintain and enhance your customer engagement, loyalty and revenue during the Black Week period. To that end, one idea could be to hold a VIP sale right before Black Week, exclusively for existing customers. This strategy primarily revolves around customer retention and engagement goals.
By hosting a VIP sale dedicated to existing customers ahead of Black Week, the objective is to provide them with exclusive treatment, thereby avoiding high click costs and mitigating the potential of losing them to competitors during Black Week.
This approach not only nurtures customer loyalty but also strives to elevate their average order value through tailored exclusive offers.
Later on, during Black Week, we can now concentrate on winning over the undecided shoppers who lack brand loyalty. This approach lets us set more precise targets and factor in the average value of a new customer
Remember: Black Week isn't the best time for awareness campaigns to boost the recall of new potential users. Prices are quite high, and people have a different mindset. During Black Week, our focus shifts to lower funnel activities. In other words, we want to be there when existing and potential customers are actively looking to make purchases.
For further reading, follow this link on how to start your strategy for the next holiday season.
Remember the Omnibus directive? This is here now
Ahead of the Black Friday and seasonal sale madness, here's a friendly reminder on the Omnibus Directive and some of its requirements. 
The Omnibus Directive is an EU directive updating the existing consumer protection legislation. It applies to all traders targeting EU consumers, regardless of where the trader is actually located. It will therefore apply to e.g. UK companies who target EU consumers even if the company is located in the UK.
One of the most important updates is the new price reduction requirements. For every price reduction claim, sellers must indicate and make available the reference price to users. 
The reference price is the lowest price applied within the 30 days preceding the start of the reduced price.
This does not need to have been applied for an uninterrupted 30 days, it could just be one day in the previous 30 days.
This means that, in order to keep running offers on products that have already been subject to price changes less than 30 days before the next sale starts, you need to plan ahead (already now). This way, you can make sure that the products and categories you want to promote during the upcoming holiday season will have that flashy "sale" label. If you don't plan ahead, you risk losing out on the "sale" label in Google Shopping together with price strikethrough.
The Omnibus Directive tackles "fake" offers where an advertiser increases a product's "original" price in the days running up to Black Friday before lowering it on Black Friday, to make the sale price seem more attractive.
Part 2: Black Week execution
What's new this year? GA4 that's what.
As you might've noticed, GA4's time lag is too long for a day like Black Friday. To make up for it, it is important to have access to the most updated data so we can understand our pacing throughout the day. We recommend implementing 2 new actions (and one old one): 
Set up multiple conversion actions: This means having different ways to track when people take actions that matter to your business. Imagine it like having a few different types of measuring tools. For example, if you're running ads on Google, you might use both Google Ads pixel and GA4 tag to see when people click on your ads and do things like make purchases on your website. Even if you only use one for optimising your ads, having different tools helps you quickly figure out what's happening during the day, and you're not relying on just one tool. 
If you're still using GA360, you also have UA available. We recommend keeping that conversion action running. With more data sources, you are more agile when making decisions during the day – and less dependent on GA4.
You could potentially have a blended ROAS/POAS/CPA target that you agree on before Black Week – this way, you can use the channel cost by reviewing the ratio of cost during the day and compare it to the usual ratio outside of the holiday season.
Your Black Week operational checklist
Ad copy and extensions 
Upload an additional RSAs and/or use ad customizers  (ad customizers also need review).
Label fallback and Black Week ads.
Prepare and schedule relevant Black week extensions: Sitelinks, callouts, promotions, GMB update
Optimise your ad copy to resonate with the Black Week spirit, emphasising discounts and limited-time offers
Consider using dynamic keyword insertion to personalise your ads based on the user's search query.
All things keywords
Negative keywords: Exclude search terms such as "black friday" and "black week" (exact match) 
Carry a thorough keyword research strategy to identify the most relevant and high-impact keywords for your Black Week offerings.
Perfect your product feed
Your product feed is the foundation of Shopping campaigns. Ensure it's optimised, accurate, and up-to-date. 
Include high-quality images that showcase your products from multiple angles. Incorporate essential details like prices, availability, and accurate product descriptions. A well-structured feed sets the stage for successful campaigns.
Mobile Optimisation: Given the surge in mobile shopping, optimise your Shopping ads for mobile devices. Ensure that your images are visually appealing and well-suited for smaller screens. Optimise your landing pages for mobile responsiveness to provide a seamless shopping experience.
Dynamic remarketing
Retargeting is a powerful tool during Black Week. Implement dynamic remarketing to show personalised ads to users who have previously interacted with your products or website.
Showcase the exact products they viewed, reminding them of their interest and encouraging them to convert.
Bid management
Monitor Bids Actively: Regularly monitor keyword data and stay aggressive in your bid strategies to secure prime ad placements during the peak of Black week. Be agile in your bidding strategy, increasing bids for high-performing keywords and adjusting for competitive trends.
Automated bidding strategies, such as Target CPA or Target ROAS, can help optimise bids in real-time.
Seasonality adjustments are your best friend during Black week: Even though the algorithms are getting much better at picking up trends at a faster pace, we still don't want to fully rely on it to understand drastic changes in consumer behaviour. Google's Seasonality adjustment is a tool that can help you tell the algorithm how much you expect your conversion rate to increase when your deals are launched. This feature is even more relevant because it automatically reverts back to your current performance when the period is over. If you relied on e.g. decreasing your Target ROAS a few days ahead of Black week, then you would be in a complicated position when Black week is over since you would need to gradually go back to your normal Target ROAS. With seasonality adjustments, you ensure that your ads are getting the right push when it's needed, and it will automatically slow down when the war is over. You can find it on your Google Ads interface on Tools and settings > Bid strategies > Advanced controls.
That's all from us folks
Black Week is the ultimate frenzy for shoppers, and your success hinges on how well you tap into its potential. With smart Paid Search and Shopping strategies, you can captivate your audience, boost conversions, and achieve impressive results. By understanding keywords, managing bids, using eye-catching ad extensions, and targeting the right audience, you're ready to make this Black Week your most profitable one yet.
Embrace these techniques, keep an eye on your progress, and keep refining your approach to ensure your brand not only survives but thrives during this exciting shopping bonanza. Good luck!
Sign up to our newsletter for more related insights around key shopping periods – and a whole host of other tips & tricks!