Unblackboxing Performance Max: New Precis tool to measure performance across placements

Richard Drott
Global Performance Lead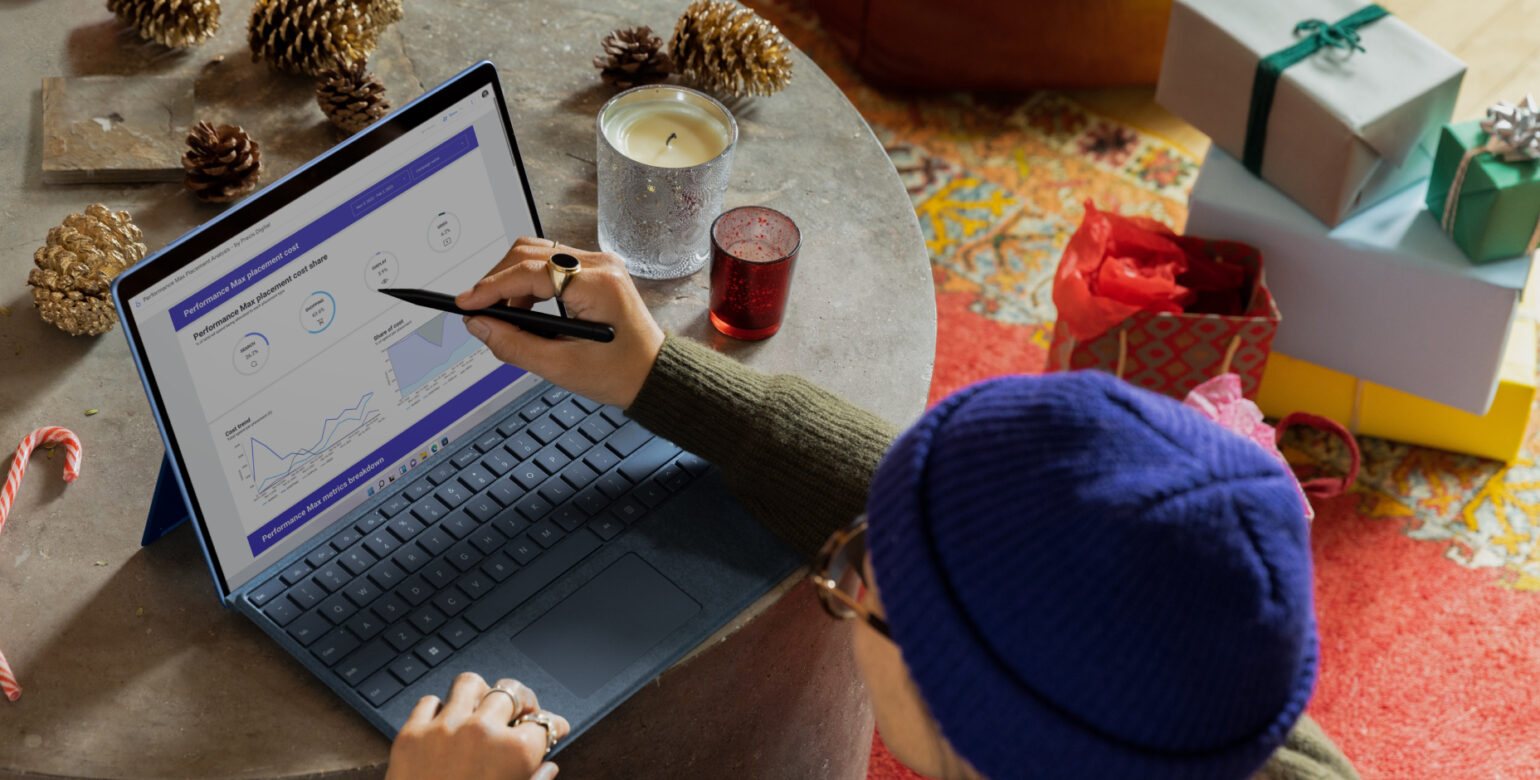 Performance Max has long been considered a black box by many. But Precis has developed a new reporting solution that will give advertisers unique insights into how much of their marketing investments are used on different placements. Read on to learn more and see the embedded demo version.
What is Google's Performance Max?
Performance Max is a Google Ads campaign type that combines the power of machine learning and automation to optimise ad delivery and targeting across multiple ad placements such as YouTube, Display, Search/Shopping, Discover, Gmail, and Maps, driving performance based on any specified conversion goal and target.
Performance Max is designed to help advertisers achieve their business goals by automating and optimising their ad campaigns for maximum performance.
However, the workings behind Performance Max itself have always been abit of mystery… How much did I invest in display ads, how much went into video ads, and what did it give in return? These are all questions not previously possible to answer.
What is the Precis solution to 'unblackboxing' Performance Max?
At Precis, we are constantly working on creating technology and practices that will help our clients gain better transparency in how their marketing budget is spent and what the value of it is. So naturally, we dove into the reporting API to figure out how the campaign could give us exactly what we were asking for, the channel split.
By utilising Google Ads API, BigQuery, and Looker Studio through our Precis Data Platform (aka bifrost by Precis), we are able to see how cost, impressions, clicks and conversions are distributed across multiple placements. We can evaluate the efficiency and investment into each placement and asset, and also account for the overall investment in a more holistic marketing mix and attribution model.
Overall there are many takeaways from this, but the fact that we can now track and measure placements performance allows for any account using PMAX to advance competitiveness, traction and market share.
Check out the example dashboard below!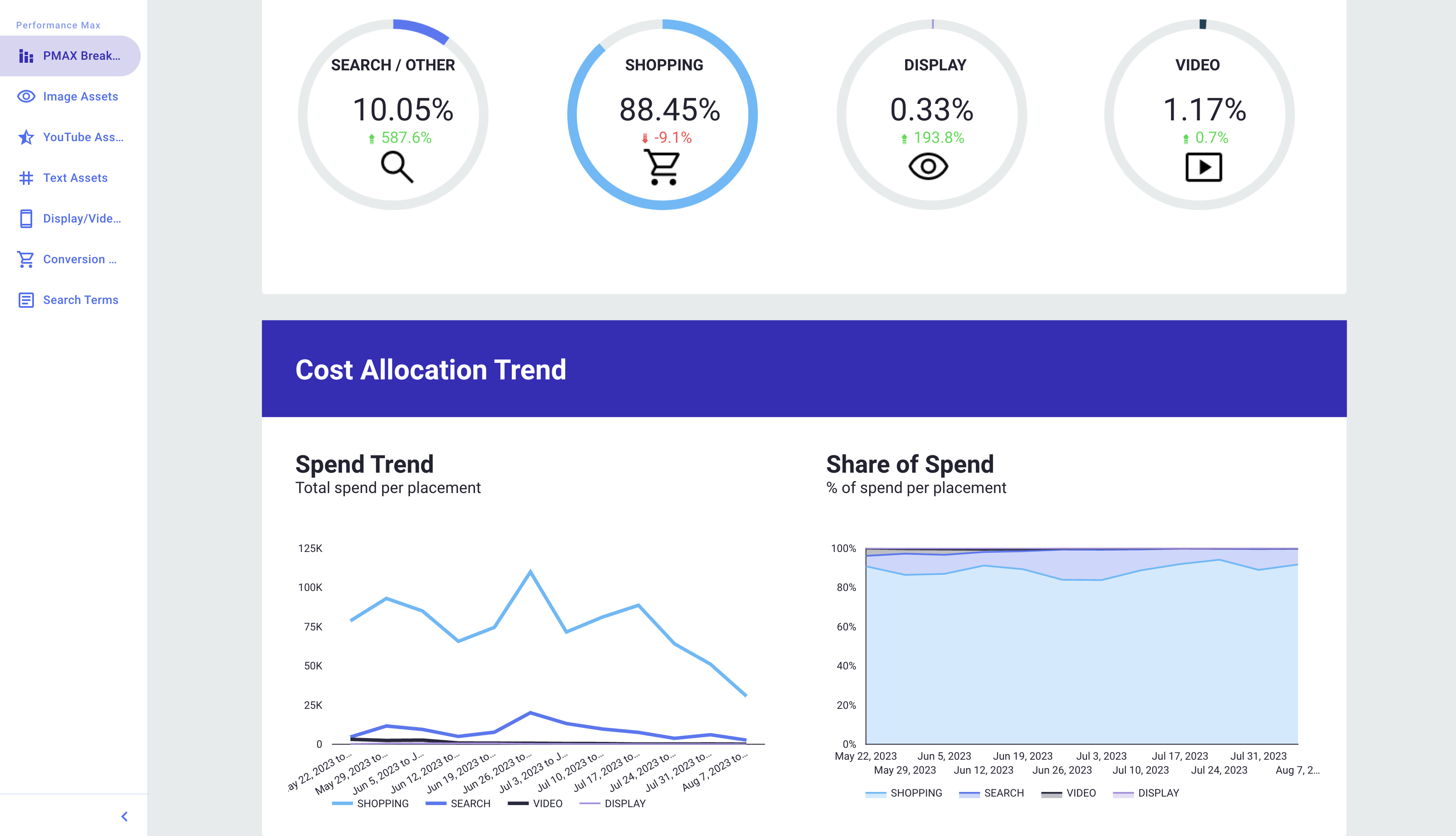 So, what are the top insights from the Precis PMAX dashboard?
With the new dashboard we can determine:
1. How much ad spend went into the different formats that we can identify in Performance Max, for Search, Shopping, Video, and, Display.
2. How target and/or budget changes can impact what formats get activated.
3. The results from the individual channels compared to similar formats running outside of Performance Max.
4. We can evaluate the performance and quality (Performance Label) of all assets in order to replace bad-performing assets, and avoid creative tiredness.
And when we took a closer look for some of our clients we identified two major trends…
1. Shopping is still the major driver of Performance Max, however Display, Video, and Search are still accounting for a considerable amount of spend.
2. Performance Max can start to take over Brand Queries on Search, if its eligible to do so (i.e. A branded Search campaign missing out on impressions due to missing match types or too low bids).
3. In times of low demand for Shopping, placements such as Video and Display can get more aggressive to keep the campaign spending stable, potentially this is used as a way of building top of funnel demand for future purchases.
Get in touch with us if you would like to get access to our new Performance Max reporting tool for your own marketing data.