A complete guide to B2B marketing

Daniela Nocker
Senior B2B Marketing Strategist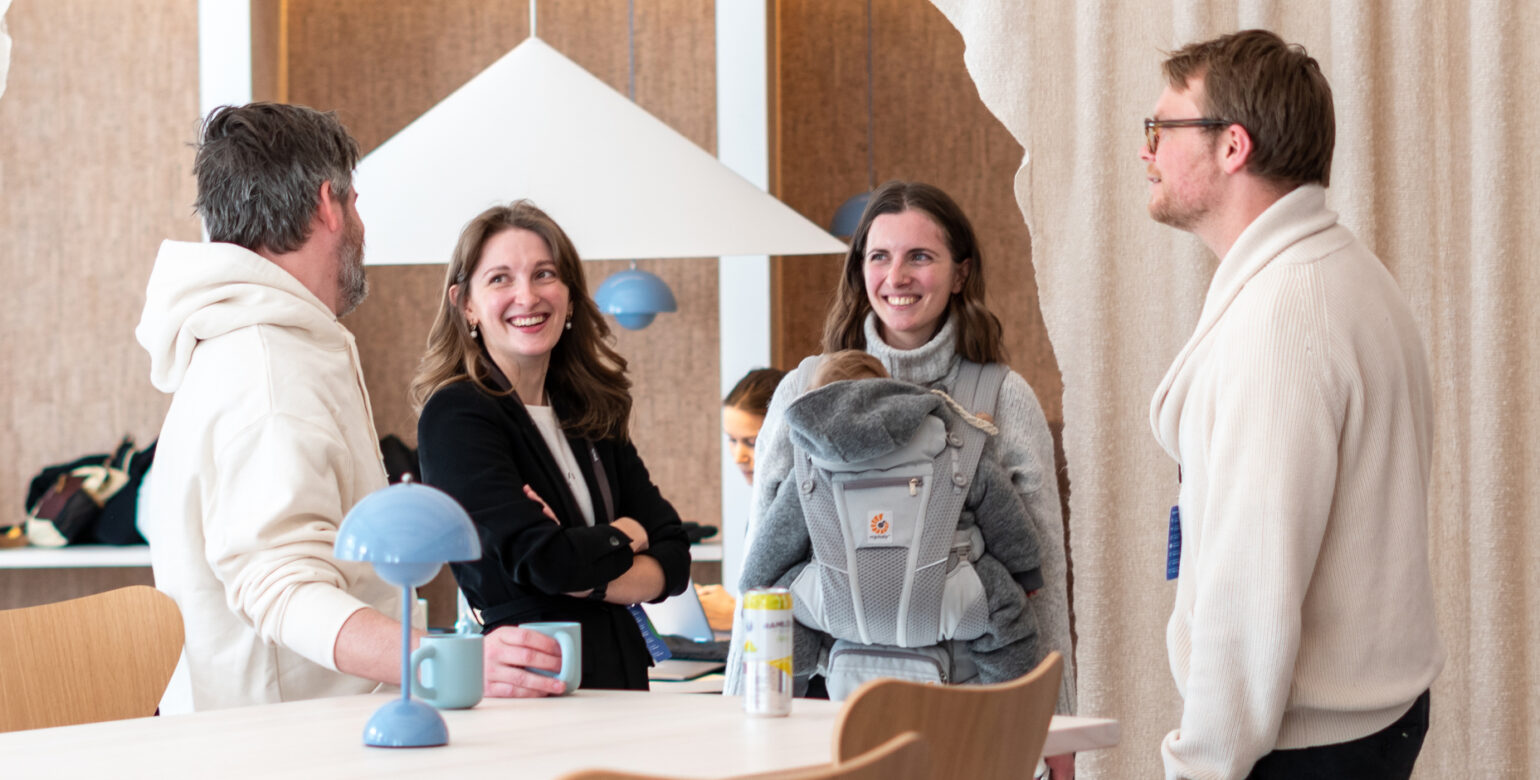 Buzzwords like "personalisation," "demand generation"' and "revenue growth" have become the currency of conversation in B2B marketing. At the same time, traditional lead generation methods, once the pillars of the industry, are fading into obsolescence, making way for a revolution in B2B marketing.
Navigating this evolving landscape can feel like venturing into a jungle, full of unfamiliar terms, incomprehensible jargon and complex strategies. If you've ever felt lost in the world of B2B marketing, you're not alone – it's a challenge faced by many individuals and businesses alike.
But fear not! This guide is here to help you navigate B2B marketing, understand the industry's latest trends and strategies, and provide you with the knowledge and tools you need to grow in the changing B2B marketing industry. Off you go!
What is B2B marketing?
Business-to-business marketing, commonly referred to as B2B marketing, is gaining substantial prominence in the marketing industry. As you might have noticed, the B2B landscape is significantly changing. Therefore, it's crucial to understand the ins and outs of B2B marketing and, more importantly, how to execute it effectively. But what is B2B exactly?
B2B marketing refers to marketing strategies and activities that target businesses and organisations as customers (instead of consumers) to meet their needs, establish relationships, build trust, offer solutions, and fulfil specific company requirements. As an example, HubSpot's marketing activities and efforts all fall under B2B marketing as their customers are other businesses rather than individual consumers.
What is the difference between B2B and B2C marketing?
As we just explained, B2B marketing centres on selling products or services to other businesses. B2B marketers have taken a proactive approach, working closely with their sales counterparts to boost company revenue.
B2B sales typically involve large order volumes, long sales cycles (the time it takes to close a B2B deal), and more complex decision-making processes including different stakeholders. In other words, since many stakeholders are part of the decision-making process, a normal B2B customer journey can take a long time.
On the other hand, B2C marketing targets individual consumers and focuses on meeting their emotions and needs. Compared to B2B marketing, fewer people are involved in the decision-making process in B2C marketing, so the sales journey is much shorter than the B2B one.
The old way: Lead generation
Lead generation is a B2B marketing strategy and has been seen as the primary one for a while. It involves generating and nurturing leads through marketing efforts, often via email sequences until deemed ready for sales. In other words, potential customers had already provided some of their information to a company.
The value of lead generation lies in its ability to direct potential customers towards making purchases. For this process to work, effective collaboration between marketing and sales teams is essential to target leads with the highest potential for generating new business opportunities. It sounds good in theory but often doesn't work as expected in practice.
For example, a significant, recurring problem is that leads are often sent to the sales team too early, leading to disqualifications. However, people are now much more aware of what to expect when sharing their information to access gated content. No one wants to end up in a generic nurture campaign followed by persistent sales calls.
As a result, the B2B marketing industry is shifting towards demand generation, a smarter approach from a business perspective, but not easy to achieve from the get-go. Therefore, this shift is currently one of the main challenges discussed by B2B marketers and their colleagues in sales. The section below explores common B2B marketing challenges, particularly those related to demand generation and the shift towards this new way of understanding B2B marketing.
Common B2B marketing challenges
As you might've noticed, B2B marketing comes with challenges that can be quite tough to tackle. In this guide, we'll even explore two specific challenges in more detail: the shift towards demand generation, and gated vs. ungated content.
A shift into the new way: Demand generation
As discussed, lead generation, the older way, is all about collecting contact information and nurturing leads with the hope of converting them into customers. This sounds straightforward, so why the shift?
Today's buyer's behaviour is changing. They're more informed and selective, looking for personalised and relevant content to guide their decisions. As a result, businesses are adopting a more dynamic and responsive strategy, known as demand generation. This strategy doesn't just generate leads but also creates and captures demand effectively.
This new focus on demand generation, including the 2 key phases of demand creation and demand capture, represents a more dynamic approach to attracting high-intent prospects, beyond just generating leads.
Phase 1: Demand creation. This first phase aims to create awareness and generate interest among the target audience. We do this by strategically using content marketing and outreach efforts to spark interest and consideration among prospects. This shift sets the stage for a more comprehensive marketing approach.
Phase 2: Demand capture. As the buying committee evaluates different options before making a decision, the focus is now on influencing their intent with targeted content. This approach helps prospects 'get ready' to become high-intent leads, fitting the evolving landscape of demand generation.
In essence, by emphasising demand generation, including demand creation and demand capture, we can enhance the sustainability and effectiveness of our marketing efforts. This approach acknowledges the evolving dynamics of customer engagement and leverages customer advocacy, making it a powerful strategy for the modern B2B landscape.
Okay, this sounds good, so why are so many B2B companies still working in a lead generation mentality? Well, shifting from lead generation strategies to demand-generation ones takes a lot of time, consideration and effort. Indeed, the entire company, including all revenue-contributing stakeholders, will need to adapt their mindset to new ways of working and revised KPIs and add new skills across teams.
All in all, making a shift towards demand-generation strategies can be quite daunting. If you are in this boat too, welcome aboard! Give yourself time, educate yourself about the ins and outs of demand generation and take it step by step.
Gated content vs. ungated content
A further challenge you might encounter in B2B marketing is that of content creation and whether to keep it gated or ungated. But what does even that mean?
Demand generation often involves creating valuable content to attract and nurture leads, and the debate over gated vs. ungated content explores how to present this content to maximise engagement and lead generation. Both concepts revolve around optimising content strategies to effectively reach and convert potential customers.
The topic of gated content versus ungated content is currently a widely debated issue in the B2B marketing industry.
Gated content means that potential customers are asked to leave their email addresses to access the content.
Ungated content refers to content that is available right away, without needing to leave any information. For instance, this B2B marketing guide is a great example of ungated content 😉
Both gated and ungated content strategies have their advantages and disadvantages, but demand generation primarily relies on ungated content. The rationale behind this approach is to empower individuals to educate themselves through accessible, valuable content that doesn't require them to fill out a form to access it.
Additional B2B marketing challenges
This is by no means an exhaustive list, but here are a few of the most common challenges you might also encounter:
Difficulty when measuring the impact of marketing spend
CRM activity not connected to marketing efforts
Low MQL to SQL conversion rate
Low pipeline volume led by marketing…
The importance of B2B marketing and sales teams
Since both B2B marketing and sales teams are crucial for the overall success of the company, finding a harmonised way of engagement between both teams can help create more seamless interactions with potential customers.
For example, by aligning and collaborating on the account selection process, the marketing and sales teams can build a unified strategy to identify promising target accounts together. This approach guarantees that each prospect receives precisely the most relevant message at the most opportune moment.
The B2B marketing team can employ targeted Account-Based Marketing (ABM) strategies to go after accounts showing the strongest buying signals.
Simultaneously, the B2B sales team engages these promising prospects with personalised content.
Together, they utilise technology to keep track of how prospects interact with content and move through the marketing funnel.
B2B customer journey
The B2B customer journey is the path a buyer follows from the initial problem awareness to the final purchase decision. It usually involves multiple touchpoints and interactions with various marketing and sales channels. The B2B customer journey can be complex, but understanding it is crucial for effective and successful B2B marketing and sales strategies.
Making the most of the customer journey
B2B marketing has undergone significant changes due to digital transformation, presenting an opportunity for businesses to create exceptional customer experiences. Today, customers demand seamless and personalised interactions across digital channels throughout their buying journey.
However, meeting these expectations, as critical as product quality, requires personalised messaging, easy multi-channel engagement, understanding of pain points, and anticipation of future needs, essential in the digital age.
To engage with these buyers effectively, marketers need to make content accessible on preferred channels, compatible with all devices, and available 24/7. Achieving this for multiple accounts is challenging, so we recommend B2B marketers use data-driven insights to identify high-value accounts and deliver personalised experiences to each buyer within those accounts.
Understanding the B2B buyer journey
To create effective marketing strategies that cater to B2B prospects throughout their extended purchase process, it's essential to understand the B2B buyer's journey first. This journey encompasses the Awareness, Consideration, and Decision stages, given the longer sales cycles and the necessity of employing specific tactics at each phase.
In the Awareness stage, the prospective customer first recognises a problem and starts researching to understand it better.
In the Consideration stage, the prospect evaluates potential solutions for their identified problem.
In the Decision stage, the prospective customer is prepared to make a decision or formally initiate the buying process.
In the Post-decision stage, the (now customers) use the product or service and evaluate their satisfaction.
To help place your potential customers in the right phases, you might want to create a customer journey map for your company. If you don't know what a customer journey map is, think of it as a tailored version of the buyer's journey, illustrating how your brand interacts with prospects in each phase. Armed with this knowledge, you can determine which B2B marketing strategies will be most effective at each stage.
B2B marketing strategies
B2B marketing strategies can focus on both brand awareness and demand generation. In our case, B2B digital or online marketing refers to the use of digital channels and online tactics to promote and advertise products or services from one business to another. In other words, it's the application of digital marketing strategies to target and engage with other businesses as customers or clients, rather than individual consumers.
An example of such digital channels is Google Ads. Google Ads makes it possible for businesses to market to their target audience through various advertising formats such as Search Ads and Display Ads. It's also possible to do remarketing campaigns, targeting potential customers who have previously visited a brand's website.
In the following table, we dig deeper into various B2B marketing strategies, each designed to help businesses navigate the intricate web of digital marketing and connect with other businesses effectively.
The case of content marketing
A crucial part of inbound marketing, content marketing draws potential buyers to a business's online platforms, where they can access informative content like articles, videos, or podcasts, providing valuable insights about the business's offerings.
Content marketing is valuable because it establishes the business as a trustworthy source of expertise by highlighting its products and services through diverse content formats such as how-to guides and customer success stories. Furthermore, content marketing is versatile and performs well on various digital marketing platforms, such as blogs, resource guides, websites, podcasts, email, social media, events…
Effective content marketing relies on several key factors.
SEO plays a vital role by aligning content with popular search terms, making it more discoverable to users actively seeking relevant information.
The selection of the right communication channels is critical. B2B marketing teams should analyse engagement and behavioural data to identify the most effective channels for reaching their target audience.
Optimising the timing of content delivery is essential. Understanding when the audience is most active on specific channels allows for the delivery of tailored messages at precisely the right moments, increasing the likelihood of content being noticed and resonating with the audience.
Together, these factors form a cohesive strategy for engaging the target audience successfully in content marketing.
Steps to create a B2B marketing strategy
B2B marketing requires a strategic approach to effectively reach and engage with other businesses and understand their specific needs. Here are some key points to consider when developing your B2B marketing strategy:
Identify your target audience: What is your Ideal Customer Profile (ICP)? What are its demands? Remember that your target audience is made up of the humans working at the company you're targeting. Consider factors such as industry, company size, HQ location, job roles, and pain points. These characteristics will help you tailor your marketing efforts to resonate with your target audience.
Create high-quality content: Develop compelling content that educates, informs, and addresses the challenges your target audience is struggling with. This can, for example, include blog posts, case studies, videos, or webinars. Focus on providing value and positioning your brand as a trusted industry resource.
Utilise various distribution channels: To reach your B2B audience, social media like LinkedIn, email marketing, paid search, and SEO can help you effectively reach decision-makers in your target market and increase your visibility.
Build strong relationships: Engage with your audience through social media, industry communities, networking events, and review sites. Personalise your interactions and provide valuable insights to establish your brand as a thought leader in your industry.
Measure and optimise: Use key metrics such as conversion rates and customer acquisition costs to evaluate the effectiveness of your activities. Adjust your strategies based on the insights gained to optimise your results.
For more information about how to do B2B marketing and navigate its challenges, read this article.
Relevant B2B tools
An essential part of B2B marketing is determining the right tool sets to amplify growth. B2B marketing analytics refers to collecting, analysing, and interpreting data related to marketing efforts in the B2B sector. It involves tracking and measuring various metrics and KPIs to gain insights into the effectiveness and impact of B2B marketing campaigns and strategies.
In other words, it refers to using tools and technologies to gather data from multiple sources (such as website analytics, CRM systems, and advertising platforms) and applying statistical analysis and data visualisation techniques to extract meaningful insights.
There are many solutions out there that you can add to your martech stack, depending on the following categories:
Marketing Automation: HubSpot, Pardot, Marketo
Customer Relationship Management (CRM): HubSpot, Salesforce
Lead Scoring: Madkudu
Attribution: Dreamdata
Account Based Marketing (ABM): Terminus, 6sense
Account Identification: Leadfeeder, Albacross
B2B trends to watch in 2024
The rise of first-party cookies
Major web browsers are phasing out third-party tracking cookies due to rising privacy concerns and changing regulations like GDPR and CCPA. This shift reflects a growing focus on granting users more control over their data and ensuring transparency. Marketers are now exploring alternative, privacy-conscious methods like contextual advertising and first-party data collection as they adapt to a digital landscape that prioritises user privacy and consent-driven data practices.
AI-driven personalisation
The rise of AI in marketing can be attributed to the growing need for effective personalisation at scale. Marketing teams face the challenge of reaching diverse customer and prospect bases, and AI simplifies this by processing large datasets and providing valuable insights into individual preferences and behaviours. This, in turn, allows marketing efforts to deliver highly relevant content and offers, meeting the modern customer's demand for personalised experiences.
Additionally, AI streamlines marketing operations, freeing up resources and enabling teams to focus on strategic and creative aspects. In B2B marketing, especially within Account-Based Marketing, AI is instrumental in identifying key accounts, crafting tailored messages, and monitoring engagement, making it an indispensable tool for successful marketing strategies.
Optimising video marketing
In the crowded digital content landscape, video marketing is emerging as a powerful tool for engaging prospects and customers. With people spending significant time watching online videos, B2B marketers are tapping into this trend to capture their attention. Mobile-friendliness is essential, as a substantial portion of viewers consumes short-form video content on their phones.
Looking ahead, integrating video marketing into social media strategies is not just beneficial but imperative for enhancing brand visibility, fostering engagement, and effectively reaching decision-makers where they actively engage with content. In a world where video content reigns supreme, optimising your video marketing approach is essential for staying relevant and impactful on digital platforms.
Voice search optimisation
Voice search, driven by technologies like Siri and Alexa, is transforming how consumers and professionals access information, with many B2B buyers already adopting voice assistants for their searches. The appeal of voice search lies in its convenience, providing quick, hands-free access to information, especially valuable for professionals managing multiple tasks.
For marketers, it's crucial to recognise the shift towards natural language in content creation to cater to the conversational nature of voice queries, ensuring content remains relevant and accessible to the growing audience using voice search technology. Here are a few things to keep in mind while strategising voice search:
Incorporating Voice Search: To enhance visibility in voice search results, it's essential to craft content that matches the specific, conversational nature of voice queries. This involves in-depth keyword research focusing on long-tail keywords and using natural language patterns to reflect how users inquire about your brand, products, or services.
Structured data, meeting search engine requirements, having relevant content with SEO optimisation, synchronised multimedia elements, and fast-loading web pages, play a vital role in voice search – it ensures that your site is considered credible and ranks well in voice search results.
Mobile, local and vocal: Approximately 50% of B2B voice searches are from mobile devices, making mobile-friendly websites and local content a priority. Prioritising local search, especially for location-based intent, is key. Using a question-answer strategy to frame content, focusing on relevant long-tail keywords, and aiming for featured snippet sections can enhance visibility in voice search further.
Integrating voice search in B2B marketing strategies offers enhanced accessibility and brand recognition, ultimately providing a competitive advantage and preparing for the evolving landscape of search marketing.
B2B success stories
Ultimately, it all comes down to understanding what works for your business, learning and making mistakes along the way and celebrating success together. Below you can find some B2B success stories by Precis.
Brandwatch, a B2B SaaS company, faced the common challenge within B2B marketing teams of identifying valuable online leads that would meet the qualification criteria for the business. Read here how Precis was able to help, ultimately resulting in a 53% decrease in cost per SQL.
Lyyti came to Precis to get help with building and executing a paid marketing strategy that would help them grow. Precis worked alongside Lyyti to advance their digital maturity, ensuring that the right actions on the website were being tracked. Read more about the results here.
Curious about our comprehensive B2B solutions and expert knowledge in the field? Read more and get in touch here.